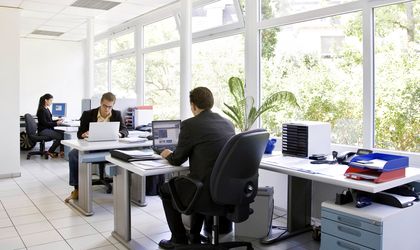 Vlad Craioveanu, Ilinca Paun and Cristian Ustinescu are launching 3house, a new workspace concept that integrates all-inclusive services focused on the individual needs of development and the growth of customer's quality of life with an investment of EUR 1.7 million.
The company plans to open three locations in Bucharest in the next two years, with a total area of ​​over 15,000 square meters. The first, under construction, is located in an ultracentral area, on Tudor Arghezi street. It will be fully operational starting January 2019, a first floor being available for visitation from November this year. Total investment for the first 3house location is estimated at EUR 1.7 million.
"I think the most important benefit of 3house is that it offers members and visitors the opportunity to focus on their business and projects without wasting time and additional resources to manage their own workspace. Because we understand the needs of our customers and their teams very well, we have focused our efforts on creating a product that helps those who go beyond the threshold to become better in everything they propose. From office infrastructure, to integrated services for employees, to the quality of ingredients in the dining area, to the attention we give our visitors, 3house is a true concierge," said Vlad Craioveanu, co-founder and CEO of 3house.
Entrepreneurs, business entrants or professionals from different fields of activity will benefit from all the facilities of a creative and creative work environment: team-based offices, open-space areas, an event space with a capacity of 120 seats, a proprietary bistro with a capacity of 100 seats. A range of special services, access to a diverse community, networking sessions, and programs dedicated to raising the quality of life complement the 3house offer.
3house is a company developed by three Romanian entrepreneurs: Vlad Craioveanu, who successfully introduced the concept of co-working in Romania in 2012 by launching Impact Hub Bucharest, Ilinca Paun, CEO of a prestigious business school in Romania, The Entrepreneurship Academy and Cristian Ustinescu, a professional with extensive real estate experience in Romania and abroad.
The official launch of the first 3house will take place in early 2019.