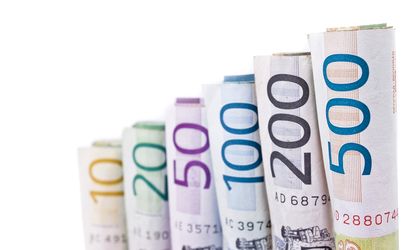 Romanian micro-enterprises and SMEs can obtain EU funds between EUR 1-5 million each for various business sectors, from software and gaming to clothing and food products, through a new 2.2 SME financing line in the Regional Operational Programme (POR), released into public consultation on Monday, with a different version than previous editions.
The Regional Development Ministry has released the new draft for a call for projects part of the 2.2 Investment priority programme of POR 2014-2020 – Supporting the creation and expansion of advanced production capacity and services development. Proposals for the applicant's guide, the business model, the list of eligible sectors and other useful documents are available online.
The funds will only be available in urban areas, with a few exceptions: Bucharest, Ilfov County and the Danube Delta area, which will be targeted through a different programme.
Before this edition, the 2.2 SMEs financing line had available funds (regional and minimis funds) between EUR 200,000 and 1 million, but this call for project offers regional funds between EUR 1 million-5 million per project.
Depending on the company's size and the development region it is part of, the applicant must also have a financial contribution to the project. For example, a micro-enterprise or small company must co-finance the project with at least 45 percent of its value in the West region, and at least 30 percent in the other six eligible regions. A mid-sized company must provide at least 55 percent of the project's value from own funds in the West region and 40 percent in the other regions.
The increase in the financing ceilings – from a minimum of EUR 200,000 to a minimum of EUR 1 million – makes the funds no longer accessible to entrepreneurs with more limited financial resources, considering the rather high co-financing requirements, although bank loans could be a solution for some.
Company eligibility criteria
Eligible applicants have to be either micro-enterprises or SMEs and meet a number of criteria, including the following:
To have been active for at least one full fiscal year and have had an exploitation profit in the year prior to the application;
A company submitting an application for financing in 2019 must have been established on January 3, 2018 at the latest and have recorded a profit by December 31, 2018;
To have had at least 3 employees in the year prior to the application.
Eligible investments
The main types of projects eligible for the financing are:
Investing in physical assets such as construction works, expanding areas of production or services, including related general utilities (water, sewage, gas, heat, electricity, etc.);
Acquiring technological equipment, machinery, work installations, furniture, IT equipment, office supplies;
Acquiring equipment with the purpose of reducing energy consumption or systems that use renewable energy sources (solar, wind, hydro, biomass, geothermal) in order to make activities more energy efficient;
Investing in non-physical assets: patents, licenses, brands, software, other similar rights and assets.
The project must include investments in physical assets, while non-physical assets are optional. Funding is not provided for exclusively non-physical assets or upgrade works.