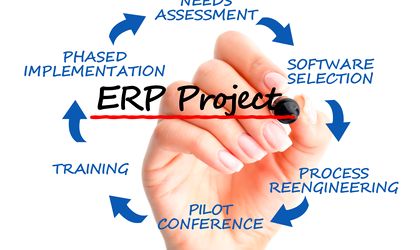 Implementing an enterprise resource planning (ERP) system is one of the most challenging projects your business can ever take on. An ERP touches all aspects of your business operations and may likely change how your employees do their jobs, making it a massive undertaking.
If you want to ensure a successful ERP implementation, there are ways to avoid its issues. One way is by researching or reading Oracle ERP modules and articles like this one. 
With that said, here are the tips to achieve success when implementing your chosen ERP system:
A risk that some business owners face during the ERP implementation process is not being able to make improvements to the company's bottom line. This could be because they vague goals and improper plans to achieve them. To avoid this, make sure to define your end results and where you want to go.
Start by defining your project's scope and focus on certain processes and requirements. The more precise you are, the more details your ERP implementation partner can have. This way, they'll be able to determine the possible issues and opportunities to give out the best solutions, allowing you to make the most out of your ERP system.
Make The Right Pre-Implementation Choices
Never let your ERP implementation process start off on the wrong foot. One of the tips to ensure success is to choose an ERP system that meets your corporate objectives. Your decision must not only be based on the costs alone but on the cost-value as well. Whether you opt for a hybrid two-tier, on-premise, or cloud ERP solution, you have to ensure that your business can manage the ongoing costs, maintenance, and support to run an ERP system.  
A good leader is useless without the right team. To ensure a successful ERP implementation, you should have a team of skilled and experienced people on your staff to help you implement ERP in every department of your company. Choose a team that has a background in all the different sectors of your company. For instance, focus on the departments that could be the key to the success and operation of your ERP systems, such as financial, manufacturing, and distribution departments.
However, never stack your ERP implementation team with the upper management only, but have employees who do the actual work daily. Keep in mind that you need to align your company's processes with your ERP system. Therefore, select people who know your core processes inside and out to help you complete the implementation successfully.
Collect End-User Feedback Throughout
For a smooth deployment of your ERP system, consider collecting feedback from your end-users throughout the implementation process. This will give you an idea of how your employees interact with your clients as well as the gaps and challenges in your customer support system.
This information helps guide the implementation of your ERP system by identifying your user needs and providing solutions to address the issues accordingly. 
Put Effort Into Proper Staff Training
One of the businesses' mistakes during the ERP implementation is not giving proper staff training. Whether or not it's your first ERP system, migrating to a system that's different from what your staff has been using before can be a big adjustment.
You have to devote more resources and time towards training to ensure that your staff knows how to use the solution. During the training, always be patient and never rush everything. Remember that it takes time to get everybody comfortable and up to speed. Give your employees more time to make mistakes and learn. Besides, it's better to make mistakes during the training phase than during your ERP implementation. Once you focus on proper ERP training for your staff, you can guarantee that it'll pay off over time.
Besides choosing the right solution, the right partner is the key to success. The best partner offers a quality IT solution that fits your business needs. They also know what solutions are ideal for you. Moreover, they have the same approach and mindset as you, which leads to building long-term business relationships.
Have A Change Management Plan
The best change management plan can help your employees quickly adapt to the new ERP system with a high success rate. To make an effective change management plan, a business must set proper expectations in the initial stage of the ERP implementation process. For example, provide project updates frequently and explain the output expectations for the implementation to succeed. 
Final Thoughts
Implementing an ERP system is never easy. However, it doesn't mean that it's impossible to achieve success. So, if you want to implement any ERP solution successfully, put extra time and effort into planning and building a solid team. Having a plan in place and working with the right partner can help you reap the benefits of a successful ERP implementation.