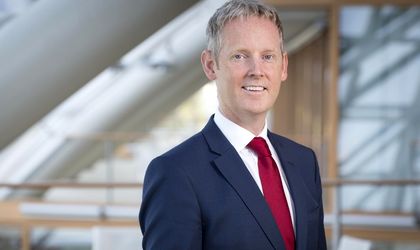 The European Investment Bank Group has signed the "SME Initiative in Romania", a deal with nine commercial banks aiming to ease lending terms for local entrepreneurs. BR spoke with Andrew McDowell, the Vice President of the EIB Group, about how the local economy can benefit from EU Bank financing.
By Catalin Alistari
The EIB is moving towards supporting SMEs in Romania, as you already announced, after a period during which it mostly supported public investments. What are the EIB's priorities in Romania?
Our mission as the EU bank is to support EU policy goals, and Romania indeed is a member state. That covers a range of goals, such as SME financing, innovation, environment, infrastructure, climate action and cohesion are among our priorities. We are often associated with financing big infrastructure projects, but in the last 4-5 years, through the so-called Junker plan, we have been increasingly financing SMEs and corporate innovation. And that will continue to be a priority for the EIB in the following years, as we look to diversify our portfolio. 
We will of course continue our traditional business, by supporting the preparation and financing of large infrastructure projects, particularly in transport infrastructure, and in Romania this will continue to be a priority. But we will also continue to diversify our portfolio, including providing more support for SMEs through the commercial bank partners we have here. Not long ago we signed together with our subsidiary – the European Investment Fund (EIF) – a commitment to back a EUR 1.5 billion portfolio of loans to SMEs, where the EIB Group will take 60 percent of the risk, with 9 commercial banks, which will significantly improve the potential portfolio of SMEs who will benefit, reaching up to 5,000 in this country.  
That's the type of activity that we will do more of. We will also provide more direct financing to corporates in Romania, particularly through the Juncker Plan (called InvestEU in the next programming period), where we can finance the innovation efforts of corporates in Romania that are investing in Research and Development. For example, we signed a project with a company that is investing in IT centers in Cluj to build up an R&D capacity for artificial intelligence with the purpose of reducing food waste. It is a fascinating project: through machine learning, they place cameras above commercial kitchen waste bins to see what food is being wasted. Over time, the computer will recognize the foods that are frequently thrown out and will start to advise those who prepare the food on the ingredients they should use in order to minimise waste. 
It was a EUR 7.5 million loan, much lower than people normally associate with EIB, and there should be plenty more companies in Romania that can obtain this type of support. But what we are increasingly going to prioritise in the future, for both public and private operations, is environmental protection and development. Climate action, both in terms of decarbonisation and renewable energy, as well as projects to adapt infrastructure to changing temperatures, have been priorities for the EIB. The world is not yet ready to adapt economically to the changing climate. In June, the European Council called upon the EIB to do a lot more in terms of climate action. Subsequently, in July, the newly elected president of the European Commission, Ursula von der Leyen, suggested that the EIB should position itself as the EU climate bank, and specialise in those activities.
Have you already signed any contracts on climate action in Romania?
Environmental protection is going to be a major priority. For example, the company I mentioned above which is investing in artificial intelligence estimates that it will reduce food waste by a million tonnes per year. That is significant in terms of environmental protection. That is the type of thing we want to focus on in the private sector. Clearly, there are also other areas where we think we can do a lot more. Romania is facing a big challenge in terms of deploying more renewable energy and increasing energy efficiency. 
If Romania wants to remain competitive in the future, it has to soon start to reduce its lignite and coal usage. It is a big challenge to replace coal energy with clean energy. We have seen how renewables started out in this country – with a few investments in the first part of the decade, but then the green certificate system changed and all the investments stopped. We would really love to do such work with the Romanian government and see whether we could put in place a support system for renewable energy that would resume investments. Not just in wind, but solar as well, which has a huge potential in Romania. But there is a need for a predictable, steady support regime and legislation. 
In that context, we are very happy to advise on these issues and to subsequently deploy large financing for environmental projects. Romania has a very large traditional industrial base and a large household building stock that requires higher energy efficiency. We have been very active with a lot of municipalities, especially here in Bucharest. We've signed over 11 contracts in the past few years – over EUR 600 million in financing for retrofitting apartment blocks, covering over 2,500 blocks throughout the city. We think that this could be done on a much larger scale, across the country, including through financial instruments involving EU funds and commercial banks.
Are you willing to extend the programme to other big cities in Romania?
Bucharest municipalities have quite a large apartment building stock. Elsewhere, the potential is probably more limited, but we can support them. We run a programme called ELENA, where we have a budget of EUR 100 million to provide technical assistance, particularly for municipalities to prepare energy efficiency programs. And that is something we would like to do more outside Bucharest. 
There are three challenges the public sector faces when dealing with energy efficiency projects. First of all, the technical preparation, which we can support. The other challenges are often budget and land registry issues.
Looking back on your experience as an economic adviser to the Irish Prime Minister, do you see any resemblance between Romania today and Ireland 15-20 years ago, before it had an explosion of big IT investments?
I see many similarities. In Ireland back in the 80s, there was still a lot of immigration, and a lot of traditional industries were disappearing because of the competition from the European single market, and we had our problems in terms of public administration and political instability. Many thought the country was doomed to decline. The lesson I drew from this was that it takes a long time to master EU governance and learn how to deploy EU structural funds. I think another lesson I learned is that you must have a very clear vision of where to seek a competitive advantage for your country. We realised that we would never be able to compete, as an island, on heavy industries that required very quick access to the European market and very good logistics. We didn't have that type of infrastructure. 
We picked out a few niche, high-value industries, including IT and pharmaceuticals, which did not require a lot of infrastructure. We invested in those areas, including through structural funds. We digitalized telecommunication infrastructure, because that was essential for IT industries, we invested very selectively in technology institutes, and rather than investing in every single discipline at every university, we picked out technology disciplines where we needed to build a skill base and aligned them very carefully with the industries we wanted to develop. Every country is on a different development path, has different potential competitive advantages, but it needs to align its investments strategy to where it can compete in the future. I do think that IT is an obvious high-potential area for Romania, and there are clusters of IT specialists around the country that are supporting shared services for large international companies. Innovative local start-ups and entrepreneurs are beginning to appear, but risk capital is absolutely required. An ecosystem of venture capitalists, founders, entrepreneurs, mentors, and researchers is needed to build up capacity. 
Recently, the Romanian stock exchange market was upgraded to an emerging market, while Poland is already a fully developed market. Do you think that Romania can close the gap with Poland in terms of development in the foreseeable future?
I think you can, absolutely. Poland had an early start. In the EIB's eyes, Poland has been very successful in its absorption of European and EIB funds. There are two institutional things that they did very well and could be lessons for Romania. They have a very strong national promotional banks, and countries with this capacity are very good at extracting money from us because they do a lot of the groundwork. Secondly, I think Poland has been very good at public private partnerships (PPPs). They have strong capacity within the government for PPP projects, including combining them with EU grants. This is not easy. You need an exceptionally skilled PPP Unit and not every country has managed to develop one. In Romania there is legislation in place that everybody can work with – our PPP Centre of Excellence contributed to its drafting – but capacity at the central government level has still to be built. 
What can you tell us about the EIB's involvement in the Romanian agriculture?
This is another great opportunity in Romania, another area with huge potential. Romania has become the largest exporter of cereals, so it's becoming the breadbasket of Europe. Access to financing has been a big challenge for farmers as well. We do two things: we work with commercial banks or other non-financial institutions like Agricover to provide funding and guarantees reducing collateral requirements and ultimately interest rates. We invite banks to dedicate at least 10 percent of our loans to supporting young farmers. We also co-finance the government's contributions to the EU-funded Rural Development programme.