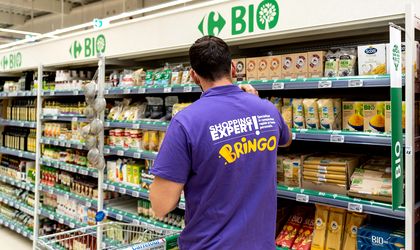 Less than half a year after the launch of the 30-minute fast delivery service, Carrefour Romania and Bringo continue to expand it at a consistent pace, reaching nine cities. Thus, the Carrefour through Bringo fast delivery map includes as of today Arad, Bacău and Craiova, which add to the previous waves of expansion in Bucharest, Iași, Cluj, Timișoara, Brașov and Constanța. Customers in these cities can order their favorite products through the Bringo app from their nearby Carrefour Market and Express stores.
This is the fourth wave of expansion, bringing to 48 the total number of Carrefour Market and Express stores that support fast delivery in these nine cities. As for the new localities, the service is currently based exclusively on Express stores: in Arad, the fast delivery service is available in the proximity of the store in 18 Avram Iancu Square, while in Craiova, it is available in the vicinity of the store in 122-124 Nicolae Iorga Str. Last but not least, in Bacău, the service is based on two Express stores, from 4 Dumbravei Str. and 14 Prieteniei Str. The two partners aim to expand this service in all three cities so that customers can order their favorite Carrefour products quickly, from any neighborhood, through the Bringo platform.
Customers have access to over 90% of the proximity store's assortment through the 30-minute fast delivery service and benefit of products at the same prices as in physical stores, in the context in which Bringo does not practice commercial surcharge.
"The fast delivery service is an important pillar in our partnership with Bringo and a result of our common goal to develop services in the food e-commerce area. Today's customer wants an online reflection of what is already available offline through our multi-format stores, and the fast delivery service provides them the proximity, speed, and healthy choices they need at just a few clicks away. Therefore, we are confident that residents of Craiova, Arad, and Bacau will choose the Express stores included in the program with confidence for essential purchases at the fastest pace. As an example, this way, fresh fruits or vegetables reach the shelves of Carrefour stores from the greenhouse and from there they go directly on the shoppers' tables as fast as possible", said Gabriela Stănică, Chief Information, Data Officer and E-commerce Director, Carrefour România.
Customers can order products through the Bringo app from nearby stores with delivery in just 30 minutes, and a reduced cost of 9.99 lei per order. This option comes in addition to the standard one, with traditional delivery in 90 minutes and for a cost of 19.99 lei per order from the existing supermarkets: in Arad – from the ones in 1A Tunarilor Str., 54 Ștefan cel Mare Str. and 39-43 Revoluției Str.; in Bacău – 74 Republicii Str. and 27 Mioriței Str.; and in Craiova – the Carrefour Market stores from 40-42-44 Calea București, 1E Olteniei Blvd. and from 2 Tabaci Str. – 1 Mai Square.
"We noticed a substantial increase of orders through the Bringo platform in 2021 compared to the previous year, and this proves to us the potential of food e-commerce and also motivates us to make the fast delivery service available in as many cities in the country as possible. We want this service to cover all major cities in Romania by summer", added Ioana Ilie Dobre, General Manager, Bringo.
Through the Bringo app, available for free in the App Store and Google Play, shoppers can choose Carrefour products without a commercial surcharge. Carrefour Romania is Bringo's largest partner, offering customers a range of between 3,000 to 50,000 products and being active in the app with all hypermarket and supermarket or express stores. The purchases are made by a personal shopper who communicates in real-time with the customer, the long-distance shopping experience is significantly improved.