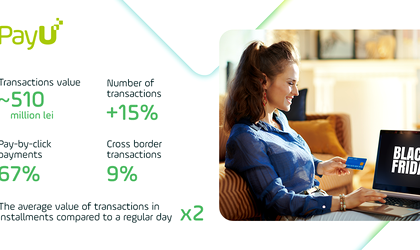 PayU, the leader in online payments in Romania, estimates that in this year's edition of Black Friday, which will take place on November 11th, at the level of the e-commerce market, products and services worth approximately RON 510 million will be purchased and paid online, slightly above the value of the previous year.
At the most important shopping event of the year, PayU estimates an increase of approximately 15% in the number of transactions made by online payment, which once again confirms the interest of Romanians in this event, which has emerged its maturity at local level.
Maintaining the upward trend of online transactions is due to the confidence of consumers to purchase on Black Friday not only products from star categories such as IT&C or fashion, but also from other categories, newer to online, such as coffee, perfumes & cosmetics, toys, medical services or tourist packages, as we already seen in the previous year.
As noted in past years, Black Friday represents for online commerce the time of the year when the preferences or behavior of Romanians in terms of online purchases and payments can be accurately observed, and in order to address them as best as possible, this year, merchants have prepared discounts for a wide range of products.
The increase in diversity of the discounted products for Black Friday 2022 is also possible as a result of the development of marketplace business segment, where more and more merchants, who did not have their own website or operated strictly in the offline environment, understood that they could be listed relatively easily, thus having access to a new channel through which both sales and operational processes are fast and optimized by the marketplace provider.
"In the previous edition of Black Friday, one-click payments in the PayU portfolio represented 62%, this share being possible as a result of saving the card in the PayU or Google Pay system, in order to make a purchase, thus an online payment, quick and easi, without filling in the card data for each new transaction. Also for this year's event, we encourage buyers to save their card in the PayU or Google Pay system in advance, especially since by saving it, they can also benefit from a quick refund, visible in their account in less than 30 minutes after retun request confirmation, a unique benefit in Europe, offered by PayU", added Elena Gheorghe, Country Manager at PayU Romania.
One-click payment will account for approximately 67% of all paid transactions on Black Friday 2022, up with 8% year-on-year, and the average value of installment purchases is expected to double from an ordinary day. This trend is also supported this year by the campaigns with extended installments prepared by the issuing banks, together with the merchants.
Same as in previous years, buyers from all over the world will continue to choose local merchants, while Romanians will expand their search for their favorite products on cross-border platforms. Thus, similar to 2021, around 9% of all Black Friday online payments are expected to be transactioned with a card issued in another country, an otherwise constant trend in recent years, which releals a customer habit from outside the country to follow the offers available this day at Romanian retailers.
To help Romanian merchants expand their business across borders, PayU has developed the global platform PayU HUB. Through unique API integration, merchants have access to billions of potential new customers in the high-growing markets of Asia, Central and Eastern Europe, the Middle East, India, Africa and Latin America.
Merchants from PayU's portfolio which will participate in this year's edition of Black Friday include Arabesque.ro, Altex.ro, Elefant.ro, eMAG.ro, F64.ro, FashionDays.ro, Flanco.ro, Flip.ro, iStyle.ro, Jysk.ro, Noriel.ro, Pcgarage.ro, Quickmobile.ro, Studio Moderna, tazz.ro, Vivre.ro, Vodafone.ro and others.