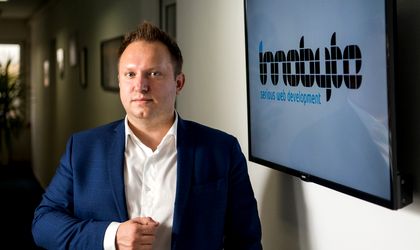 Innobyte, one of the most important Romanian companies specialized in software development for eCommerce, registered a turnover of 10.6 million lei in 2021, an increase of 21.24% compared to the previous year, and a net profit of 2, 7 million lei, 21.87% above the 2020 figures. 
Over the past year, Innobyte's customer portfolio has grown by 30% and expanded its collaboration with existing ones. The company has also started new projects in the Pharma industry, which has gained momentum in the online environment in the last two years of the pandemic, thus opening the collaboration with a new industry. 
"Innobyte's revenue in 2021 is above our financial goals, and this was possible due to the team's ability to manage and take on clients with highly complex projects, which require high standards of code and security," says Cătălin Șomfălean, CEO of Innobyte. 
The company had 39 eCommerce specialists at the end of 2021. For the current year, Innobyte aims to increase their number to 50 colleagues, having open positions for Magento 2 programmers and NodeJS and ReactJS programmers with different levels of experience, but also specialists in the Quality Assurance and Project Management team. 
Estimates 2022: 10% increase in turnover 
In 2022, Innobyte aims to increase its revenue by 10%, strengthen its position as a developer of top eCommerce solutions and expand its capabilities in this direction – both in line with global industry trends and in terms of platforms used to develop online stores. 
"We are constantly up-to-date with what is new in the field, and we notice some interesting trends that will start to take shape in Romania as well. Live commerce is one such trend, brands that include Live streaming in their online platforms to increase their sales and break away from the competition. Marketplaces, specialized online stores and hyper-personalization of shopping experiences are also trends that we, at Innobyte, are ready to roll out in online stores in Romania", continued Cătălin Bordei, Managing Partner Innobyte. 
To consolidate its market position and expand its customer portfolio, the company is also considering creating its own eCommerce solutions dedicated to the digitization of SMEs. 
Another priority is investing in people and strengthening the internal team. Last year, Innobyte decided to offer team members the opportunity to work remotely indefinitely, without forcing them to return to the office, thus attracting employees from cities other than Bucharest. 
"People are our most important resource, and starting with 2022, we intend to allocate significant amounts to expand our team and develop new technical skills. We estimate that we will start by allocating 10% of the turnover for the current year to this approach and attracting new customers. In the context of the recent armed conflict in Ukraine, we are also considering a program to support developers, to whom we can offer jobs within Innobyte, with the possibility of relocation to Romania", says Cătălin Șomfălean, CEO of Innobyte.