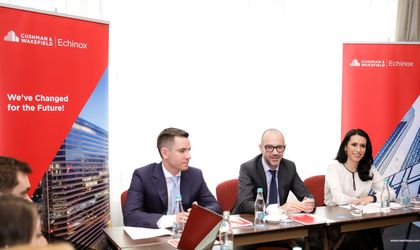 Local real estate services company DTZ Echinox has officially rebranded into Cushman & Wakefield Echinox following a global exclusive agreement.
The formal affiliation follows the 2015 global merger of DTZ and  Cushman & Wakefield. Local Echinox had a been a DTZ affiliate since 2002.
The new affiliation and rebranding will not bring about changes in the company's management structure, albeit the local team will be expanded and new business lines might be added to the company's current portfolio, said Mihnea Serbanescu, the GM of Cushman & Wakefield Echinox. The company has posted a turnover of about EUR 3.5 million last year and expects an increase of around 35 percent for 2017, according to company data. The increase will be driven by both new business resulting from the affiliation but also from the positive outlook of the local real estate market, said Oana Iliescu, managing director of Cushman & Wakefield Echinox. Also, several important deals the company is working on have been postponed for the beginning of this year, she added.
Cushman & Wakefield Echinox provides services to investors, occupiers and owners across all sectors of the real estate market. Core actividties include leasing and brokerage, property and facility management, capital markets, investment and asset management, valuation, research and project management.
Cushman & Wakefield is a top three global real estate services firm, with some 43,000 employees in more than 60 countries, recorded revenue of over USD 5 billion, 4.3 billion sq. ft. under management and USD 191 billion in global transactions, according to its data.
Read more in the next print edition of BR.
Simona Bazavan