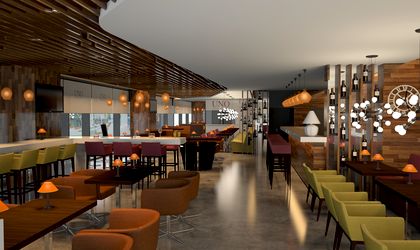 As consumption has been picking so has demand for space for restaurants and cafes in Bucharest, according to DTZ Echinox representatives. The real estate consultancy says that this can be seen from the number of lease contracts for such spaces which have been closed over the past months, the new restaurant and cafe concepts introduced locally as well as the positive results reported by most industry players.
"The Bucharest cafe and restaurant market is  a very dynamic one for objective reasons such as the increase in consumption as well as due to external factors such as the need for businesses to relocated from improper locations," said Bogdan Gubandru, business development manager with DTZ Echinox. Demand is coming from both international chains that are looking to expand their local networks as well as local entrepreneurs who either take out a franchise or invest in their own concepts, he added.
Over the past months the retail department of DTZ Echinox has brokered leases for a total of 655 sqm for an average rent of EUR 26/month. Tenants include newcomer Coffeeshop which opened a cafe (franchise) in the Dorobanti Square, the first local Boutique du Pain Jr. which opened in the AFI Park 2 office building, another restaurant (Uno) and cafe (Tucano) in Afi Park 4&5 and a new 5To Go location in Bucharest.
George Srour, shareholder and manager of Uno Restaurant says he has invested EUR 300,000 in the opening the restaurant. "The Bucharest restaurant market will continue to grow for two reasons. First of all people no longer have the time to cook the way our parents did and secondly, revenues are going up," he said. The restaurant offers Italian cuisine which the owner says is very popular in Bucharest.
5 To Go is a cafe concept launched by two local entrepreneurs Radu Savopol and Lucian Badila in 2015 and which has now reached a network of 17 locations. Badila says the company presently has 500 franchise applications.
Simona Bazavan