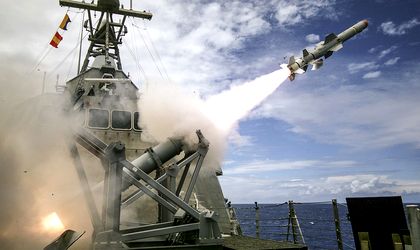 Romania is prepared to pay EUR 137 million (excluding VAT) on a mobile anti-ship missiles system that will be set up on the Black Sea coast, according to hotnews.ro.
The public tender was launched by the government in October last year and, after a period of suspension, has now reached the bid submission phase. Four large companies have submitted offers.
The contract stipulates that the supplier of the equipment must be from a NATO or EU country, and that the manufacturing of some components as well as maintenance must be done in Romania. The sole criterion to attribute the contract is the lowest price.
There is currently another endowment project that could be influenced directly, for four multirole corvettes and two frigates purchased from the UK 15 years ago. Many have said that the anti-ship missiles on these ships could be the same as the ones installed on the coast, for logistical reasons. Besides this project, Romania could soon decide to upgrade the Marasesti Frigate as well as the missile carrier ships, all equipped with Soviet P-15 Termit anti-ship missiles, which need to be changed.
Companies bidding with anti-ship missiles
MBDA Group, the largest missile manufacturer in Europe, has proposed its Exocet MM40 Block 3, one of the most popular anti-ship missile models in the world. The model is also part of offers by Fincantieri and Naval Group in the corvette acquisition procedure.
Boeing is offering the Harpoon Block 2 anti-ship missile, being used by many armies across the world. This type of missile is also offered by Dutch company Damen in the corvette acquisition procedure.
The third offer is by Swedish company Saab, in partnership with German Diehl Defence, with their anti-ship missile RBS15 Mk3, which has the biggest range of all and was the most recently developed. This type of missile is also used by marines in Germany, Poland and Sweden.
The fourth competitor in the tender is Kongsberg, a Norwegian company that proposes the Naval Stryke Missile (NSM) model, which would be cheaper, relatively small and based on infrared sensors instead of its own radar system, which makes it much harder to detect. On the other hand, the lack of a radar system could be problematic in some weather conditions, although the company says the missile is "all-weather".
The biggest disadvantage of the NSM is that it's not part of any offer in the process to acquire corvettes and upgrade frigates. However, it was selected by the US to endow Litoral Combat Ships in partnership with Raytheon, the manufacturer of the Patriot system that Romania recently acquired.