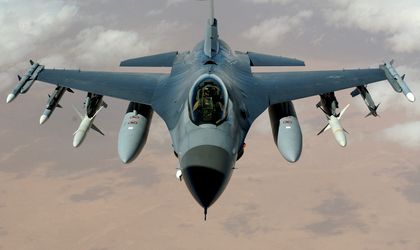 Defense Minister Mihai Fifor said on Friday that Romania will buy five more F-16 planes from Portugal, four of them with simple command and one with double command, and that the purchase will be put into a legislative project by the Government by the end of the year.
"In the next period, we will also discuss the other 36 F-16s we want to buy. There are several possibilities taken into account, we've talked with several states that have F-16 planes and could make them available for us to buy, including the US, Israel or Greece," said Fifor.
The minister said that state secretary Mircea Dusa made a trip to Portugal a few days ago and talked with our Portuguese partners, who had previously sold Romania 12 of the planes. "We'll talk about the amount we're going to pay for these planes towards the end of the year, when we intend to promote a law in the Parliament to continue the F-16 programme. It is too early to talk about costs at the moment," Fifor added.
Fifor also talked about upgrading the IAR 99 Soim planes, saying that in less than two weeks negotiations will be launched with the Craiova plane factory in order to upgrade the 21 planes and make them the training planes for F-16 pilots.
Romania paid EUR 628 for the 12 planes it has already acquired from Portugal, which went through a Mid-Life Upgrade process.