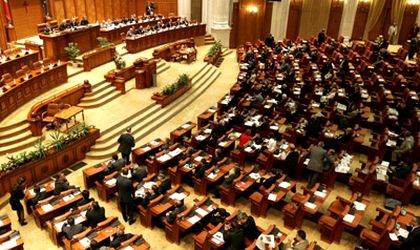 Romania's Senate and Chamber of Deputies will hold a joint solemn session today to celebrate 15 years since Romania joined NATO as well as the alliance's 70th anniversary.
MPs will adopt a declaration to reaffirm Romania's attachment to the NATO principles, values and goals.
President Klaus Iohannis, PM Viorica Dancila and the presidents of the two chambers, Liviu Dragnea and Calin-Popescu Tariceanu, will all speak at the parliamentary session, which will begin at 2 pm.
In the declaration, the Romanian Parliament:
Reaffirms its attachment to NATO principles, values and goals, strongly supports a strong alliance and the consolidation of transatlantic relations, which are indispensible for Euro-Atlantic security.
Supports the continued consolidation of NATO's capacity to efficiently manage all challenges and threats to member states, regardless of the source of these threats, as part of a comprehensive approach.
Salutes notable progress in ensuring a credible, efficient and coherent deterrence and defence position and highlights the importance of allied presence on the eastern flank.
Highlights the implications of developments in the eastern vicinity of the European continent for the entire Euro-Atlantic security and, specifically, the strategic importance of the Black Sea and NATO consolidation in this region.
Expresses concern about the diversification and intensification of security threats to allies and supports NATO endeavours in anti-missile, cyber and hybrid threat defence.
Highlights the importance of continuing NATO's "open door" policy and salutes Montenegro's and North Macedonia's accession to NATO.
Supports the consolidation of the alliance's partnership policy, based on common values and respect for international law and commitments in order to promote stability and support partners' increased defence capacities.
Reaffirms support for European and Euro-Atlantic aspirations of Georgia, Ukraine and Moldova, the firm support for theses states' territorial integrity within internationally-recognised borders and for a deeper cooperation with NATO, based on their specific interests and needs.
Underlines the unique importance of the NATO-EU cooperation and the need for consolidation of their strategic partnership.
Admits that collective defense begins with national defence and resilience and will continue to ensure 2 percent of GDP goes to defence according to the commitments made by allies. Romania will also continue to maintain credibility and action capacity for the alliance, as well as regional and international security.
Reiterates the importance of national parliaments to contribute to defining and implementing NATO's objectives through developed inter-parliamentary dialogue, including with the alliance's partners.
Romania was invited to join NATO at the Prague Summit in 2002, along with 7 other states – Bulgaria, Estonia, Latvia, Lithuania, Slovakia and Slovenia. In March 2004, Romania officially joined the alliance.