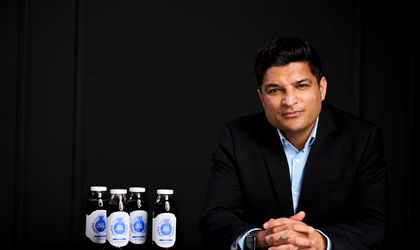 Dealul cu Afine, the Romanian organic blueberry farm based in Făgăraș, announces the launch of its new global brand The Blue Renaissance® and plans to reach international markets like UAE, Saudi Arabia, Qatar, Germany, UK in the next 12 months.
Since the acquisition of the blueberry farm in 2016, the owner Ajay Naqvi and his family have invested about 1 million Euros in capacity building, brand building and product development. 800.000 euros were raised from international investors. The farm now has 10ha of land in Toderița village, near Făgăraș, Brașov, with the processing plant in Iași.
With a history of over six years, Dealul cu Afine has been a pioneer in the local pre-ordered organic fruit market, with customers trusting the Romanian producer and paying for the products three to six months before the fruit is picked and delivered. After growing the local brand Dealul cu Afine, with more than 30.000kg of blueberry fruits sold in Romania every year, the company launched a new product – a 100% organic blueberry juice, no added water, no preservatives, a unique product on the local market. Now, the brand is ready to expand beyond Romania, reaching consumers from around the world, and to achieve this, Dealul cu Afine changed its visual identity and name. The new brand – The Blue Renaissance – arises from the brands values and DNA with a focus on offering healthy, no additives, pure products made 100% from the organic blueberries grown at the Toderița village farm.
International markets targeted
"Given all the love Dealul cu Afine was getting in Romania and the huge potential the global organic beverages market has, we are happy to announce that we are launching our quality products worldwide under the name The Blue Renaissance. We make 100% blueberry juice, organic certified, nothing added, not even water. This is a powerful statement that has attracted our investors, but also important retailers in Asia and Western Europe. Global juice industry is about 150 billion dollars, but there is very little real juice in that 150 billion dollars. It's mostly water, sugar and concentrates. We challenged the status quo of fruit beverages by creating a juice that is both healthy and tasty, without adding sugar or preservatives. This is why we believe our Romanian brand will become the default choice for people that want to live healthy lives all over the world", said Ajay Naqvi, CEO The Blue Renaissance.
First countries targeted for expansion in 2023 are UAE and Germany, where the company plans to sell its well-known blueberry organic juice and the new products developed by its R&D team this year like other berry blends and ready to drink blueberry smoothie powders in seven formulation.
"In markets like Germany, we will first address HORECA channels and in Dubai we are starting off with pharmacy channels and hospital cafes. We will follow that up with big key accounts – retailers and super retailers", announces Ajay Naqvi.
400.000 euros investment in the next two years
For the next six months, Dealul Cu Afine is projecting 50-80.000 liters of organic juice being made, in the total of about 250.000 bottles, as the company's plan is to increase the production capacity to 1500 bottles per hour. Moreover, the founder's strategic focus now is to transform a local product into an international brand as a result of last year's research in creating a great product and investing in an organic growth of the business capacity to deliver.
For 2023 and 2024, The Blue Renaissance continues the investments allocating 400.000 Euros in capacity building, logistics, R&D, human resources, and new product development. The company has already invested 200.000 Euros in the last year defining its global brand proposition and investing in the production line.
Currently, The Blue Renaissance products are sold through its online platform and can be found in organic shops, both online and offline. Part of its expansion plans nationally is the penetration of local supermarkets networks, groceries, and pharmacies chains.
A Romanian company valued at 6 MIL Euros
The Blue Renaissance started as Dealul cu Afine in 2016 when the owner Ajay Naqvi and his wife Ramona Naqvi, who is a co-founder of the company, bought a small blueberry plantation near Făgăraș. Now, after more than six years and raising several rounds of investment amounted to 800.000 Euros, the Romanian startup is valued at 6 million Euros. Among the current investors are top executives from Europe, Asia, and the Middle East.
For 2023, the company aims to raise another 2 million Euros from investors to boost its processing capacity and global expansion. Last year, The Blue Renaissance bought a 50% share in a Romanian fruit processor firm in Iași to increase its organic certified juice production capacity to more than 1.000 bottles per day. Through this investment, The Blue Renaissance will also be able to create many more new products in the beverage segment, but also to add dehydrating and powder making capacity to the parent company. Thus, the company plans to launch 3 new berry blends, 7 new functional drinks and 7 new Ready-to-drink smoothie powder formulations by the middle of 2023.