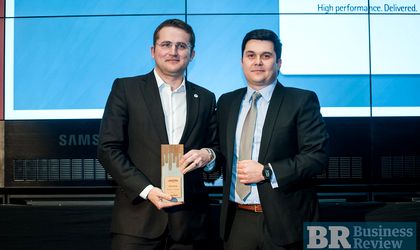 With a US-inspired business model, Autonom Rent-a-Car entered the Romanian market in 2004, and is now an established presence with a EUR 27 million turnover across the entire group last year. Having just entered the Serbian market, the local market leader fends off disruption by remaining agile and continuing to strengthen the entrepreneurial culture. Executive director and co-founder Dan Stefan gave Business Review a brief account of the company's journey and shared lessons of the past and for the future. 
"The idea to start a car rental business came from our father after a visit in the US," Stefan recalls the early days of the business. In retrospect, to import such a business model may seem intuitive, given that today the Romanian car rental market is estimated at EUR 60 million. But the road was filled with challenges, and some came earlier than other. "The biggest challenge at the time was to basically create a new market in the counties of Moldova. Luckily, the Romanians working abroad were familiar with the concept of car rental and were happy to buy it (it was more convenient compared to the alternatives)."
According to Stefan, his academic experience had a positive impact on his career. "I had the chance of doing two post-graduate programs in France. Not only did I learn a lot of useful things, but it impacted my way of thinking about the global economy and about international business. It also helped me integrate a Management Consulting practice, which is always a very intense way of learning and evolving," he explains.
The 2009 crisis turned out to be an even bigger challenge, and it had a big impact on the company's business strategy. "The crisis hit our markets very hard in 2009 and 2010. We managed to change course very quickly and focus on a segment that started to be in high demand: optimising the mobility costs of companies." The crisis triggered a learning curve for the company. "We learned a lot, but probably the biggest lesson was that you cannot predict a crisis but you can (and should) prepare for it, and act quickly when everybody else is afraid to."
Today, the company focuses on corporate rentals, while airport rental offices bring 12 percent of revenues.
Tapping into new markets 
The company's presence in Hungary is solid. According to Stefan, the product is quite similar on the two markets. "The Hungarian market is more mature and settled, in Romania there is a lot of potential for growth in travel, both in leisure and in business," he says.
According to Stefan, the company's recent and future expansion to new markets revolves around the motto "think big, start small, accelerate progressively, build momentum. That is our preferred way of growing abroad." With a fresh presence in Serbia, expansion is in the cards and will see the Romanian company open offices in neighbouring markets in the upcoming years.
Staying agile to delay disruption 
As leader of the local market leader, Autonom Rent-a-Car sees disruption as impending and prepares for its arrival by remaining agile while containing to implement its expansion strategy. "Disruption will certainly come to our markets, but my estimate is that it will not be so sudden. There are several trends that might cause it: collaborative consumption, autonomous vehicles, technology companies entering  the market with a disruptive business model… and certainly other things that we cannot anticipate now," Stefan argues. "Our solution to this is to remain agile as we grow, to keep developing an entrepreneurial culture," he says.
The biggest chunk of investments in 2018, Stefan says, will go the way of acquisitions of assets and other players on the market. "Our industry is asset heavy, so it is natural to invest a lot in buying new cars. In addition to that, we have sizable budgets allocated for IT, training and marketing."
"It is also a busy period for M&A," he adds, "and we are currently investing in other companies that will strengthen our capabilities on the mobility market."