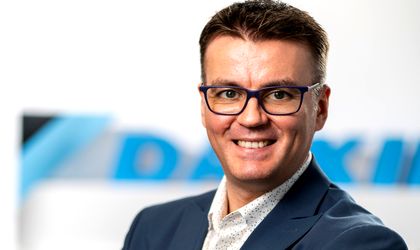 Daikin Europe N.V., together with its Daikin Central Europe subsidiary, recorded a 25% increase in turnover in the fiscal year closed on March 31, 2022, compared to the previous fiscal year. Amid growing interest in renewable heating, cooling and refrigeration solutions, sales reached 4.3 billion euros, the best result ever recorded by the company.
Daikin Central Europe, to which Daikin Romania belongs, made a significant contribution to this result, reporting record sales in 16 countries in Central and Eastern Europe.
The results achieved by Daikin Europe, together with its Daikin Central Europe subsidiary, show strong sales growth in all business segments – residential air conditioning, commercial refrigeration, but also in terms of services and innovative solutions it offers. The biggest sales growth has been in the heating segment, and the growing trend continues into the next decade. By 2030, 4 million heat pumps will be installed annually in Europe, representing an annual growth rate (CAGR) of 20%, according to industry experts. In other words, 1 in 3 heating systems installed will be a heat pump, compared to 1 in 10 in 2020.
Daikin Europe is responding to the increased demand by investing in production and innovation capabilities, warehousing, and logistics, as well as increased training for installers and service technicians across the EMEA region. With over 90 years of experience in the design and manufacture of heating and cooling technologies, Daikin is the market leader in heat pump technology. In fact, the company launched in 2014 the first generation of products for the residential segment that use exclusively the R32 refrigerant. Daikin VRV and Daikin Altherma are the best-selling heat pump systems in Europe, with over 500,000 systems delivered to date.
"Beyond the context of the European Commission's long-term strategic vision for environmental impact, the current geopolitical context and rising energy prices are driving residential and industrial customers to switch to energy-efficient heating and cooling solutions and thus reduce their environmental footprint. Heat pumps are one of the key technologies to achieve the energy transition in Europe, therefore, in many European markets, governments offer incentives and attractive subsidies to make it easier for homeowners to replace old heating systems with oil and gas or other polluting fossil fuels. In addition, all our split air conditioners are energy-efficient air-to-air heat pumps and can be used for both cooling and heating", says Daniel Vasile, Managing Director of Daikin Romania.
In the HVAC-R industry, 2021 was marked by an increase in demand in the commercial segment, especially in the area of ​​HoReCa, office buildings, retail and in the construction sector. For example, in Romania, Daikin was last year a provider of solutions for brands such as C&A, Takko, Sportisimo, Penny, Pepco, Carrefour or OMV Petrom. Also, with its unique refrigerant recycling service Loop by Daikin – Recover – Recycle – Reuse, Daikin has attracted new customers, including Toyota Manufacturing in the Czech Republic, which supports the circular economy of refrigerants in its offices, factories, or stores. In the refrigeration equipment segment, strong demand from food retail chains also had a positive impact on Daikin's results. Today,  through its circular economy initiatives, Daikin already prevents the production of 400,000 kg of virgin gas per year across Europe.
Proximity strategy pays off
In the past fiscal year, many industries were impacted by global supply shortages of parts and components. These were caused by Covid restrictions and general disruptions in supply chains. Although Daikin Europe has also felt their impact, the company's proximity strategy has been able to ward off the most adverse effects.
"We have always strived to develop and manufacture our products as close as possible to the markets that we serve. This enables us to respond in a flexible manner to market demand and makes us less vulnerable to external factors. Throughout the years, we have also built long-standing relations with strategic suppliers and, as a result, we have been able to outperform the market and grow our market share", emphasizes Daniel Vasile, Managing Director of Daikin Romania. "85% of Daikin units sold in our CE-region are produced in our factories across Europe. Our promise is 'Made in Europe for Europe' and our customers can rely on the biggest sales and service partner network of 2,500 installers and distributors in Central and Eastern Europe", continues Daniel Vasile.
Fast-growing Daikin Central Europe has doubled its workforce in the last five years to 560 employees in 2021, with 110 joining in the last fiscal year alone. In 2022, around 100 positions will be filled in the region and by 2025 the company will grow the team to 900 professionals.
"We have a people-centric management approach and pay particular attention to our employees and organizational culture. We invest in leadership development, with a customized leadership curriculum for executives at different levels, because we want leaders who inspire and motivate team members to innovate and create positive change in the organization. We also focus on employee wellbeing, creating wellbeing initiatives and projects that encourage participation and engagement of the whole team. As for future professionals on the labor market, we support the development of young people and actively contribute to their integration into our industry. We have open doors not only for experienced professionals, but also for young people at the start of their careers. We create opportunities for them – internships or traineeships – entry-level roles that help them learn, gain experience and develop the skills they need to grow with us", says Daniel Vasile, Managing Director Daikin Romania.
Globally, Daikin has 89,000 employees and recorded total sales of approximately 23.7 billion euros in the 2021 fiscal year (April 21 – March 22).