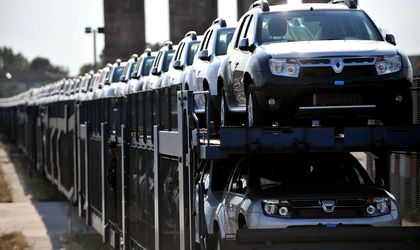 Auto carmaker Dacia's sales in the European Union increased by 18.5 percent year-on-year in the first four months of 2018, to 172,787 units, exceeding the sales of Seat and Kia and approaching Citroen, according to data published by the European Automobile Manufacturers Association (ACEA).
Dacia, a Romanian brand now owned by the French group Renault, increased its market share in the EU from 2.7 percent in January-April 2017 to 3.2 percent in the first four months of 2018.
In April, Dacia sold 45,814 units in the EU, up by 24.5 percent from April 2017. Dacia held a market share of 3.5 percent on the EU market in April, more than Hyundai (3.4 percent), Kia and Seat (both 3.2 percent) and close to Citroen's (3.9 percent).
Romanian car manufacturer Dacia has been a subsidiary of the French car manufacturer Renault since 1999. The cars are produced at the Dacia factory in Mioveni, near Pitesti, Romania, and a second one in Tangier, Morocco.
Dacia increased its production at the local plant in Mioveni by 2.1 percent in the first four months of this year compared with the same period of 2017, up to 111,536 vehicles, according to the Association of Automobile Constructors in Romania (ACAROM).