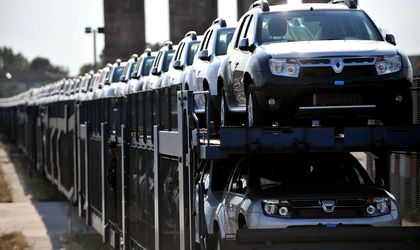 Dacia, the biggest car maker in Romania, produces 145,215 vehicles in the first five months of the year, up 1.6 percent from the same period of 2017. The production took place in Mioveni plant and the most produced is Dacia Duster, the model that dominates the production and sales in the last years, according to the Association of Automobile Constructors in Romania (ACAROM). 
Exports are the most important for Dacia, part of Renault Group, around 90 percent of production being sold outside Romania, and this is the reason why Duster and Sandero models are the most produced. Both are very well received in European countries, while Logan and Logan MCV are mainly sold on the domestic market.
The production of Dacia Sandero in January-May was 23,243 units, while Dacia Logan was at 15,330 units and Dacia Logan MCV at 10,628 units. The plant also made 17,604 car bodies that were send to the plant in Maroc.
Romanian car manufacturer Dacia has been a subsidiary of the French car manufacturer Renault since 1999. The cars are produced at the Dacia factory in Mioveni, near Pitesti, Romania, and a second one in Tangier, Morocco.
Dacia's sales in the European Union increased by 18.5 percent year-on-year in the first four months of 2018, to 172,787 units, exceeding the sales of Seat and Kia and approaching Citroen, according to data published by the European Automobile Manufacturers Association (ACEA).