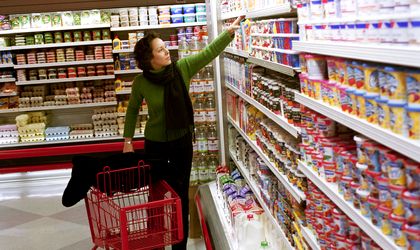 Consumer-oriented companies need to change the way they do business and take bold steps in order to stay relevant for consumers, using intelligent data and technology, according to EY's "FutureConsumer.Now" report, which identified five business imperatives consumer-oriented companies need to apply right away.
"Few are able to predict how the future client will act, but one thing is certain for organizations that are confronted with the new type of consumers: not making any change is not an option; it is a direct route to disappearing from the market. Today's leaders shape consumer behavior, trying to integrate them more and more into their own ecosystem, relying primarily on superior service quality and intelligent use of data," says Cristian Carstoiu, partner, Business Assistance Department, EY Romania.
For example, Walmart – the largest "brick & mortar" retailer – was the boldest in diversifying its business model and adapting to new trends. At the Walmart Associate and Shareholders Event in June 2018, CEO Doug McMillon referred to the organization he leads as a "technology company", which was not surprising at all if we look at the success of its e-commerce and customer experience improvement initiatives.
FutureConsumer.Now imperatives are the result of a qualitative research activity over a year, with over 200 business leaders, futurists and professionals in different fields creating a complete picture of what the future consumer might look like and what this means for today's companies.
Five business imperatives and EY recommendations for consumer-oriented companies:
Exploiting each opportunity
Agile companies entering the market use technology and identify new market placement trails by comparing existing business models, while most traditional companies are trying to protect their legacy by developing their business and pursuing gradual improvements. To remain competitive, companies will have to respond to three requirements: maximize the declining benefits of existing business models to support their transformation; build on current capabilities in a way that will lead to the development of new business models and create new capacities to capitalize on new opportunities.
Some examples of companies that have adopted this approach can be seen on the Chinese market, where players such as AliBaba or Baidu started by imitating business models of already established companies (Amazon or Google) but chose to diversify with services or innovative business models (like marketplace or cross-offers with the financial, telecom or utilities industry), thus attracting a customer segment that had not yet been accessed.
Choosing the "tribe"
Companies that are guided by the values ​​and concerns of their target groups, which matter most to their business and their "tribe", will gain competitive advantage. By varying positioning and integrating the mission they assume in every aspect of their organization, companies can develop profound, lasting and profitable linkages with consumers, the professional community they are targeting, and other stakeholders.
Thinking Design Methodology and techniques such as Customer Experience Management, for example, have been introduced from the start in successful business strategies with a manic focus on current and target customer experience.
Earn each micro-moment
Technology-oriented consumers will increasingly acquire goods, services and experiences in "micro-moments" without any preference for any platform they use. Companies will have to personalize and tailor the product offer they make available to their customers, along with the price and timing they offer, as consumers make purchasing decisions within seconds, regardless of the brand.
Provide measurable results
As technology provides the consumer with more information about purchases than ever, generalized brand promises will become redundant as consumers demand more measurable and personalized results that outweigh the key benefits of the product or service. Smart consumers of the future will have total transparency about the quantifiable consequences of each purchase and consumption option they make. In this context, companies can show transparently the positive benefit of their product or service to attract a larger share of the targeted consumers.
Mastering the ecosystem
New technologies and business models distort traditional value chains and successful consumer-oriented companies will take advantage of new opportunities by setting where and how they can bring more value. Therefore, companies will have to define what kind of consumer-oriented ecosystem they want to create and decide where they want to operate in this ecosystem.