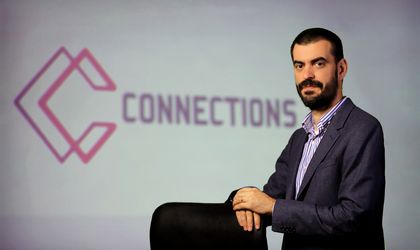 Connections, a leader in the digital transformation market in Romania, estimates for the end of 2019 a turnover of approximately USD 7 million, up 25% from the previous year.
"For us, 2019 was a construction year, we focused on investments. The key points were achieved: strengthening the intelligent automation division, the expansion plan on international markets (Middle East, Southeast Asia), strengthening partnerships with technology providers and increasing the company's turnover. 2020 will be a key year for Connections. We will rearrange the way we deliver services, in a more agile and efficient way. We estimate a $ 9 million turnover, more than 350 employees and a customer structure that will tilt the balance in favor of external markets ", explains Bogdan Florea, founder of Connections and ANIS Vice President.
The most dynamic business lines of the company were represented by software development and support services for the IT infrastructure, the largest investments in technology came from industries such as insurance, banks and utilities, and Connections managed to increase the number of its external customers in 2019 with up to 40%.
"Organic growth in an ever-changing global market brings both strategic and operational challenges. Entering new markets involves challenges related to cultural differences, but also to the speed of absorption of the progress generated by technology companies. Since this year, in some areas, we have started to become technology providers ourselves, which has added an increased degree of complexity. From a customer perspective, 2019 has been a fantastic adaptation year. Further, the challenges of the client companies are in the area of ​​accepting the need to redesign business processes to meet the fourth industrial revolution – Industry 4.0, "adds Bogdan Florea, founder of Connections.
For 2020 Connections Romania targets complex digital transformation projects, based on new technologies, such as RPA, artificial intelligence and big data, together with the modeling of business processes. At the same time, Connections will continue the technology generation projects in the area of ​​finance and digital transportation.
The company's 2019 highlights were the development of an open banking fintech platform for the Romanian market and the creation of Adam, a robot that streamlines the experience of customers buying phones in installments.