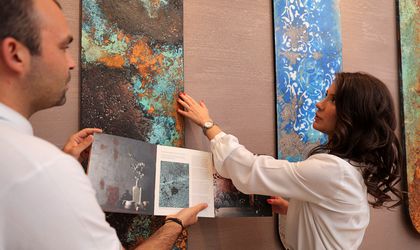 Color Smart, the sole importer and distributor in Romania and the Republic of Moldova of the premium and premium plus brands Novacolor, Color Smart and Pittsburgh Paints, continues to focus on delivering customized solutions for customers and advice throughout all stages of arrangement.
Customized service packages include paint and texture consultancy, estimating and budgeting, technical support for paint preparation, site advice, specialist recommendations and even product application with Color Smart's in-house teams.
"I noticed that people had difficulty finding specialists to apply the demanding decorative paints. Therefore, we created this unique business model in Romania, in which clients are advised during all stages of an arrangement. It took me a few years to work out all the details. In the first phase, we did our best to grow, evaluate and develop teams of applicators. Then we focused on consulting, budgeting, and technical support services. Through this consultative sale and the premium services offered, we have increased the degree of customer satisfaction, who not only return, but also recommend us to others", declares Cătălina Trupșor, founder and CEO of Color Smart Distribution.
Currently, the Color Smart showrooms in Bucharest, Constanța, Bacău and Timișoara have dedicated teams of consultants, and in each of the 13 partner stores there are 2-3 consultants. They all know the products very well and know exactly what to recommend based on the customer's requirements and preferences. The variants that can be chosen from the ranges of premium and premium plus paints are multiple. At Color Smart, every color is tested under the lights and any texture can be seen or touched on specially made panels. Clients are also assisted in budgeting to achieve the desired results at the right value for money. At the same time, they can also call on Color Smart's teams of professional applicators, who can carry out landscaping projects, at the desired quality level and within the established deadlines.
"The premium and premium plus products we market are not easy to choose or apply. That is why it is important to get involved in projects to ensure that the results will be at the level of expectations. We care about creating an exceptional experience for our customers, always showing them that we care about their needs, being proactive and, whenever possible, giving them more than they expect.

By providing these excellent services we have earned the trust of our customers and built a solid reputation in the industry. In 2022, turnkey projects represented approximately 20% of Color Smart's revenues, and for this year we aim for considerable increases in this segment", says Cătălina Trupșor.
In addition, since 2021, Color Smart has organized more than 20 workshops, where both end customers and designers, architects or applicators could test the paints and make their own panels, under the guidance of master applicators. In the few hours spent at these creative workshops, people gain a better understanding of the challenges faced by applicators and what it means to complete a premium fit-out.