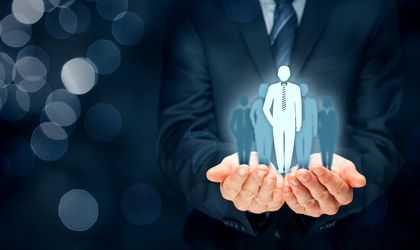 While some would want to put 2021 to rest and completely forget about it, this year turned out to be quite prolific for a handful of business leaders who took over new roles in a very challenging context and actually manage to turn around the fortunes of their new organizations, or at least to continue building upon previous successes. Business Review put together the best newly appointed top executives of 2021 in Romania, presented in chronological order based on the date of their appointment.
1. Mihai Bordeanu, Managing Director, Dacia Brand South-Eastern Europe, and Country Head, Dacia Romania.
At the start of the year, following the organization of Groupe Renault around its brands, grouped in four business units – Renault, Dacia & Lada, Alpine and New Mobility, Mihai Bordeanu was appointed Managing Director Dacia South-Eastern Europe and Country Head Romania at Groupe Renault. In June, he was also elected President of ACAROM – The Romanian Automobile Manufacturers Association. Under his leadership, Dacia launched the Spring, its first all-electric model, and the Dacia Jogger, an all-new 7 seater family car. In November, the South-East Europe news outlet SeeNews, named Dacia as the biggest company in Southeast Europe, in its SEE TOP 100 ranking. "Today's times require new transformations and new approaches. I am confident for the future that only together will we use this recipe for success, in an extremely competitive environment, still marked by an unprecedented global health crisis." Said Bordeanu in his appointment speech.
2. Florinela Cîrstina, General Manager, Medicover Romania.
On January 8, 2021, Medicover Romania announced the appointment of Dr. Florinela Cîrstina as General Manager of the company. The construction of the new Medicover Romania hospital began during her tenure. The project will involve an investment of more than €20 million from Medicover and consists of converting a 15,000 square metre office building located at 11, Șoseaua Fabricii de Glucoză, into a hospital with an integrated approach, designed to Western architectural standards. The future hospital will thus benefit from a well-developed urban infrastructure, ensured by its proximity to the Bucharest-Ploiesti highway, generous and bright interior spaces, and numerous parking spaces. All this will allow the needs of patients to be better served.
3. Marian V. Popa, Managing Director, Globalworth Romania.
Starting with March 1, 2021, Marian V. Popa became the Managing Director of Globalworth Romania, responsible for managing the company's activities in Romania, and focusing on operational, administration and business development matters. During his tenure, Globalworth expanded its industrial activity in Arad and Oradea and transformed all its 16 office buildings in Bucharest into Eco-Friendly Buildings which use 100% green energy from renewable sources. "Since technology plays a central role in the office of the future, I truly believe that my background in this field will help Globalworth to continue providing the largest business community in the country with integrated and cutting-edge solutions to respond to the different needs of an increasingly evolving market." Marian V. Popa, Managing Director, Globalworth Romania.
4. Amanda Zhang, CEO, Mercedes-Benz Romania.
Also on March 1, Amanda Zhang became the CEO of Mercedes-Benz Romania, taking over from Martin Schulz, who took over as President and CEO, for Mercedes-Benz Cars Middle East. Under her leadership, Mercedes-Benz Romania launches a new Logistic Center in Dragomiresti-Vale. Located near Bucharest, the warehouse covers a total surface of more than 7,000 square meters and holds a stock of over 23,000 spare parts and is equipped with the most advanced technologies, systems and all communication with the service centers in the country is 100% digitized. "Mercedes-Benz is a pioneer in many matters, especially safety or digital transformation and I am committed to driving forward Mercedes-Benz's top leader position on the local market and to cementing the company's claim to a carbon-neutral future." Said Amanda Zhang.
5. Alexandru Oprea, Country Manager, REHAU Romania.
The former Deputy Country Manager, Alexandru Oprea took over as Country Manager at REHAU Romania. Moreover, Oprea is also the Head of Sales and Marketing in South-Eastern Europe (SEE) for the Building Solutions Division. Thus, besides Romania and Bulgaria, he coordinates the following markets within the division: Croatia, Serbia, Montenegro, Bosnia and Herzegovina, Macedonia, Albania, Kosovo, Moldova, Greece, Turkey and the Middle East. "REHAU Romania is preparing new projects and aiming to expand the business locally and regionally," said Alexandru Oprea on his appointment.
6. Tanja Blatnik, General Manager, Euroins Romania.
Tanja Blatnik joined Euroins România as CEO with over 20 years of experience in the insurance industry, managing and leading important operational teams and innovative projects across Central Europe. Taking over in the midst of an ongoing process of repositioning on the insurance market, Tanja Blatnik concentrated her strategy on three main pillars: value creation, diversification and digitalization. Since her appointment, Euroins Romania conducted three successive capital increases, significantly strengthening its capital position in line with its further strategy to decrease its exposure in MTPL and to diversify its portfolio.
7. Ziv Gigi, Managing Director, GTC Romania.
The former CFO of GTC's operations in Bulgaria, Romania and Serbia, Ziv Gigi was appointed as Managing Director for GTC's operations in Romania in April 2021. Under his leadership, GTC Romania experienced a streak of successful lease agreements in City Gate, its high-end office building located in the North of Bucharest, with important companies such as Superbet, Rompetrol, Best Value, or Theta. "Romania is a dynamic and promising strategic location for the company's development and growth. My deep knowledge of real estate sector and years of experience in this market will support GTC in realizing brand-new projects and implementing operational excellence," commented Ziv Gigi, Managing Director of GTC in Romania.
8. Constantin Sebeșanu, CEO, Impact Developer & Contractor SA.
In April 2021, the Board of Directors of IMPACT Developer & Contractor SA decided to appoint Constantin (Tinu) Sebeșanu as CEO of the company with a 4-year mandate. In this capacity, Sebesanu led his company to become a Romanian unicorn, entering the select club of Romanian companies with a market capitalization of over one billion lei. Impact shares have doubled their value this year and recorded a 51% increase in home pre-sales in the first 9 months of the year. The real estate developer also adopted a new brand identity under the statement "Developing sustainable communities", reflecting the company's vision of developing large residential communities using sustainable technologies and solutions, with a low environmental impact.
9. Diana David, Managing Director, SAP Romania.
Diana David assumed her position as Managing Director of SAP Romania starting with June 2021. With Diana David in the lead, SAP Romania was able to implement a people-centric leadership approach that helps to navigate and strike the balance between virtual and personal workspace settings, mental health, psychological safety in the workspace and resilience under stress. I embrace the new role and together with my dedicated team, I am committed to bring our vast experience and best practice expertise to support the Romanian companies, as well as the government in its recovery plans to help the country achieve its full potential." Said Diana David
10. Lennart Zipfel, Country Manager, FREE NOW Romania.
FREE NOW, European leader in multimodal mobility services, appointed Lennart Zipfel as the new Country Manager of the company for Romania in August 2021. Under his guidance, FREE NOW has decided to join the "Plantam fapte bune in Romania" planting initiative and expanded the company's CSR involvement. Also, Bucharest entered the top 10 European cities in terms of the number of rides, among those where the group is active. "Taking this role right after the pandemic crisis will not be an easy task, but I am confident I can secure FREE NOW Romania's strong position into the urban mobility sector." Said Lennart Zipfel at the time of his appointment.
11. Dina Tsybulskaya, CEO, Telekom Romania Mobile Communications.
Dina Tsybulskaya was appointed CEO of Telekom Romania Mobile Communications S.A., effective September 1, 2021. In the months since her appointment, the company adopted a new approach based on customer-centric thinking, taking the first step to abolish the gap between attraction offers for new clients and retention offers for current subscribers. "We care for our customers, and we put their interests first. That's why we strive to provide them with the mobile experience they want. This means giving them unlimited mobility to stay connected anywhere and anytime, on any device, in a seamless and carefree way. And, equally important, we value their trust and we strive to earn it by being honest, fair and keeping our promises", said Dina Tsybulskaya.
12. Bogdan Putinică, General Manager, Microsoft Romania.
Bogdan Putinică is the new General Manager of Microsoft Romania since November 1, 2021. Although only one month into the job, the new GM already embarked on his mission to actively support and contribute to the technological transformation process started by the company locally 25 years ago, with the aim of positioning Romania as a regional digital hub. As General Manager of Microsoft Romania, Bogdan Putinică will contribute, through his expertise, to the achievement of the company's business objectives, strengthening its strategic position on the local market. At the same time, he will support the company's efforts to position Romania as a digitization hub by leveraging the country's remarkable potential and unique strengths – a large pool of IT talent, the second-largest economy in Central and Eastern Europe, the second largest population of developers in the region and a vibrant ecosystem of over 30,000 start-ups and IT companies.
Photo: dreamstime.com
Photo Gallery