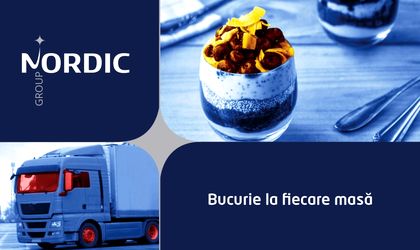 The Moldoveanu family has taken over the majority stake in Nordic Food and Nordic Logistic, the Romanian companies specialized in the import and distribution of premium food products. The transaction was authorized by the Competition Council.
The Moldoveanu family, respectively Ciprian Moldoveanu, general manager of Nordic Food and his father, Valentin Moldoveanu, one of the three founders of Nordic Group, hold 94 percent of shares. Sara Pufan, an associate, continues to hold a minority stake, while Iulia Stana decided to exit the business.
The transaction is a natural step in the development process of the two companies, with the change of business strategy and generations of entrepreneurs. Ciprian Moldoveanu will retain management responsibilities within the group and be directly responsible for his strategic development plan.
"We believe that the new shareholder structure will support our strategy and allow us to focus on the goals we have set for ourselves, accelerating the implementation of the new vision. We thank our partners for their vision and dedication," said Ciprian Moldoveanu, GM of Nordic Food.
The transaction reconfigures Nordic Group's profile, consolidating its position in the import, distribution and transportation area of ​​premium food products. Founded in 1991 by three Romanian entrepreneurs, Nordic Group comprised four distinct companies: Nordic Food, with 70 percent of the group's total turnover, Nordic Logistic, Nordic PetFood Production and Nordic Petfood Distribution. At the beginning of August, Nordic PetFood Production and Nordic Petfood Distribution were taken over by the Belgian company United Petfood Group.
Specializing in the import, distribution and transport of premium food products, Nordic Food and Nordic Logistic are among the top players in the market, with a portfolio of around 2,500 food products, distributed to Retail, HoReCa and Confectionery.
Currently, the Nordic Group has a team of 460 employees, a portfolio of 4,000 customers and a warehouse area of ​​over 8,000 square meters.
"For Nordic Food and Nordic Logistics, 2018 is a year of opportunities and development. We started with the purchase of Dupont Ingredient, one of our main competitors in confectionery and HoReCa. Following a EUR 150,000 investment in the new Warehouse Management System, the team's development program, which involved an investment of over EUR 100,000 and the inauguration of the Floresti unit. We believe we can lead the group to the next level and the changes are part of this process," explained Moldoveanu.