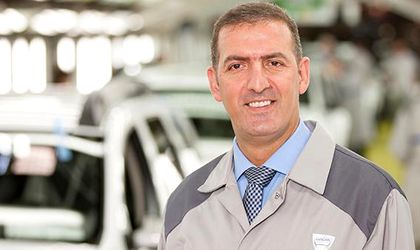 The auto industry is one of the most important economic forces in Romania, with a contribution of 14 percent to the GDP and 26 percent to exports, said Christophe Dridi, the general manager at Automobile Dacia and Groupe Renault Romania, during a CCIFER conference on Wednesday.
"The Romanian car industry represents 14 percent of GDP and contributes 26 percent to exports. It is the largest industry in Romania, one of the country's main economic forces, and we have to maintain it and develop it. This year we celebrate the 20th anniversary of Dacia's privatization and we are very happy about it. We've invested EUR 3 billion in our 20 years of activity. In the next three years we will invest about EUR 800 million in Romania. Today, Dacia's first SUV is sold to individuals in Europe and Sandero also ranks first in European rankings for sales to individuals, and these are some of the facts we are very proud of, and even His Holiness the Pope used a Duster Papamobil,"said Dridi.
At the same time, the Dacia-Renault official noted that the car manufacturer needs both global and local suppliers to promote and sell its products.
"We also have global suppliers that come with us, we need them, their experience, their knowledge and production volumes that we can provide. We also need local suppliers because we have to be competitive – Dacia has been part of the Renault Group for 20 years, and last year we celebrated 50 years since the first Dacia. In addition, we are now proud that the Duster parts are made at Elba and in the second phase of the Duster, the headlights came from Valeo in Timisoara. Whether we are talking about global or local suppliers, I want to tell you that they have high standards," added the Dacia and Renault Group chief.
The French Chamber of Commerce and Industry of Romania (CCIFER) and the Romanian Committee of Foreign Trade Counselors of France (CCEF) hosted on Wednesday the Franco-Romanian Economic Forum, under the title 'Playing Stories'.