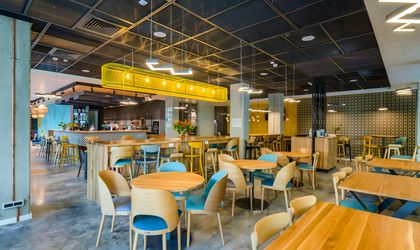 Chairry Design & Furniture, a company specializing in the fit-out segment – furniture and complete interior design solutions – reports 1.5 million euros turnover, registering a 36% business increase as compared to the previous year. The company registered a 500% growth in the medical furniture segment and 80% growth in the educational segment (schools, high schools), as investments in these areas have accelerated.
In 2022, Chairry delivered furniture and custom solutions for a total of 231 projects – HORECA spaces, office premises, clinics and hospitals, educational spaces across the country. In HORECA furniture segment, business volume remained constant, accounting for approximately 40% of Chairry's total business in both 2022 and the previous year. In the office furniture segment, demand slightly decreased last year, amid the business environment`s uncertainties related to the Ukraine conflict.
"Investments in interior design and quality furnishings for the HORECA sector will continue, with several new projects already announced in the market, to be launched this year. We are also counting on accelerating investments in office space, as most companies have implemented the hybrid work format and interior spaces will need to be adapted in terms of equipment and furniture. We also believe that we will continue to see growth in the medical and educational segments, as the need in these areas is very high and investments have been modest until recently," says Raluca Dorobantu, CEO Chairry Design & Furniture.
Last year, Chairry delivered furniture for numerous hotels and restaurants (Stradale restaurant network, Teleferic and Qosmo hotels, Alma Health & Spa Braila), projects for public and private clinics and hospitals, receptions for new office buildings in Bucharest or the headquarters of companies such as Bog`Art or P&G, as well as for numerous high schools, schools or technical laboratories or branches of operators in the gambling segment.
Chairry Design & Furniture, a Romanian entrepreneurial company, has been operating on the local market for over 20 years and specializes in interior design and furnishing, as well as providing imported or locally produced furniture solutions. In total, Chairry has so far imported more than 20,000 pieces of furniture and fitted out more than 50,000 sqm of interior spaces. The company supplies modern medical furniture certified by ANMDM (National Agency for Medicines and Medical Devices) to provide solutions in line with European standards and the needs of hospital institutions in Romania.