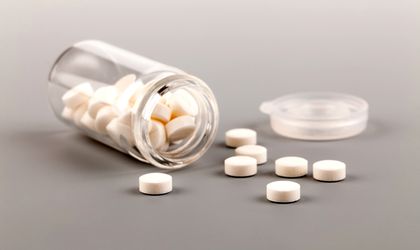 According to results of the Pharma & Hospital Report, Cegedim estimates that in the period between April 2017 and March 2018, the volume of medical drugs sold to patients in Romania went up to 588.2 million packs, a 6.3 increase compared to the previous 12 months, and the number of treatment days also increased by 7.7 percent.
The value of medicines distributed to Romanian patients in the 12 months ending March 2018 reached RON 14.6 billion at distribution prices, an 11.8 percent growth compared to April 2016-March 2017.
Isolating the impact of cost-volume-result (CVR) and cost-volume (CV) programmes, the value of Rx drugs in pharmacies increased by 8.7 percent compared to the same period. Prescription medication (Rx) in pharmacies reached RON 9.78 billion (+10.6 percent), over-the-counter medication (OTC) reached RON 3.19 billion (+16.5 percent), and the hospital segment reached RON 1.71 billion (+10.4 percent).
In the period April 2017-March 2018, the volume of prescription-based drugs in pharmacies went up to 364 million packs (+5.6 percent compared to the previous year), and over-the-counter drugs up to 195.8 million packs (+8.1 percent), while the volume of drugs in hospitals increased by 3.3 percent, to 28.5 million packs.
In Q1 2018, the total volume of medicines distributed to patients was 154.2 million packs, a 6.6 percent growth q/q, supported both by the retail channel (+6.6 percent) and the hospitals (+7.2 percent). By segments, the volume growth rates were 6.9 percent for Rx in pharmacies and 6.2 percent for OTC in pharmacies.
In Q1 2018, the total value of medical drugs released to patients was RON 3.78 billion, a 17.3 percent growth q/q, particularly due to CVR contracts which had the largest growths. Segment-wise, the growth rates were 21.2 percent for Rx in pharmacies, 13.2 percent for OTC and 5 percent for hospitals.
For the main therapeutic groups, the past 12 months have registered volume increases above market average for drugs for the digestive system and metabolism (9.2 percent), the nervous system (7.7 percent) and for the respiratory system (7.3 percent). The groups under market average were systemic anti-infection drugs, antineoplastons and immunomodulators, muscle-skeletal drugs and cardiovascular drugs.
The top 10 pharmaceutical corporations in terms of volume over the past 12 months are the same as in the previous quarter, as the ranking is led by Sanofi, followed by Sun Pharma and Servier, Krka, Antibiotice, GlaxoSmithKline, Alvogen, Novartis, Gedeon Richter and Biofarm.
In terms of value, the top three corporations were Abbvie, Sanofi and Servier. The top 10 ranking for value is completed by Novartis, Sun Pharma, GlaxoSmithKline, Pfizer, AstraZeneca, Bristol Myers Squibb, Hoffman La Roche.
Photo: dreamstime.com