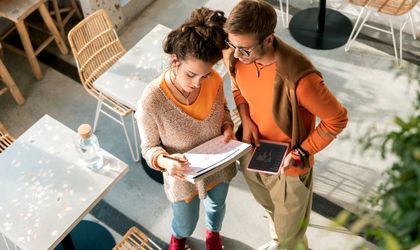 You're finally ready to become your own boss. You've saved up enough money to walk away from your job and are excited to start this new chapter. There's only one problem; you don't know what kind of business to start. If you're full of ambition but not sure where to begin, this guide is for you. Read on to learn about some of the top niches to open a business in.
Consultant
If you're the person everyone goes to for advice, opening a consulting firm is a good idea. Experienced consultants are valuable to any company, so if you've got the right skills, you can offer your services.
Online Accountant
Even though technology has streamlined the bookkeeping process, there's always room for error. Corporations need qualified accountants to run payroll, perform audits, and file taxes. If you go this route be prepared to weather some accountant-client relationship challenges, some are extra sensitive when it comes to their finances.
Courier Service
If you're looking to spend less time in front of the computer, you should consider being a courier. You can specialize in a variety of sectors, like medical supplies, which is always in high demand. When things take off, you could expand and hire employees. One thing to consider is the cost of vehicle maintenance and fuel costs. If you eventually have more than one vehicle, you'll want to learn the best strategy for fuel management for fleets. There is an online guide you can read to learn the best ways to cut fuel costs, boost efficiency, and maintain your fleet properly.
Online Selling
If you have a knack for selling, you can open an online shop. There's virtually nothing people won't buy, so whether you buy products at wholesale and then resell them, or you make them yourself, soon enough customers will find you.
Transcription Services
While some say the niche is dying out, others disagree. If you have the right skills, legal transcription is still a lucrative career. Medical transcription is another sector, however, it's best to have a medical background if you go this route.
Professional Organizer
Another skill that's in high demand is organization. It's not uncommon for professional organizers to be booked out for months in advance. You can choose to organize all areas of the home or specialize in closet reorganization only.
Pet Care
There will never be a shortage of pups who need care. Even though the market is saturated, you can specialize in a specific breed or offer services other companies don't. For example, you could specialize in larger breeds, offer pet sitting services or in-home grooming.
Digital Marketing
Digital marketing is one of the most lucrative careers you can have. There are a variety of freelance platforms you can join and offer your services. If you're certified in Google Ads or Facebook Blueprint, make sure to add that to your profile. Once you start getting clients, you can advertise your business online.
Food Trucks
Who doesn't love good food? While there is an initial financial investment, the overhead is far less than owning a restaurant. Every state has its own set of laws, so be sure to research that types of licenses or permits you need prior to buying a truck.