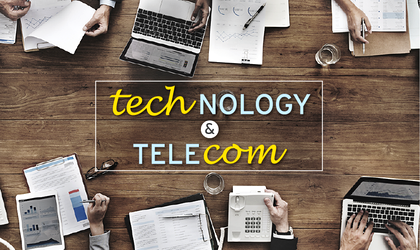 Business Review announces the 8th edition of its yearly event "Focus on Technology & Telecom" which will take place on November 22nd at Sheraton Bucharest Hotel. The event will bring forward the powerful business potential that companies can unleash by using technology as a catalyst. The panel talks will focus on telecom innovations from key players and explore how to integrate the most efficient technologies tools to optimize any business, while also outlining the specific feature of the local IT workforce.
The first panel will be an exclusive debate over the latest developments in telecom, featuring the industry's top local players. We'll be looking at solutions to transform the relationship from provider to partner by empowering people with technology that has a more human touch.
Are you a business owner or entrepreneur, looking to integrate technology even more into your business? Request a free invitation for the event at events@business-review.eu 
Technology integration within organizations is opening up new possibilities for innovation in every industry, especially in non-tech companies that can surpass digital born organizations. Meanwhile, the second panel will take a look at the game-changing models reshaping their industries from within: banking, fintech, AI, cloud solutions and cybersecurity.
The last session of discussions will focus on the most competitive workforce market to pinpoint specific HR challenges for the IT&C industry and find solutions.
Are you a HR professional interested in the latest IT workforce insights? Request a free invitation for the event at events@business-review.eu 
Among the first batch of proposed speakers are:
Silviu Neghina- IoT Sales Manager, Orange Romania
Silviu Georgescu*- CTO, RCS-RDS
Marian Ignat*- Executive Director, Digital Banking Division at BCR
Robert Anghel*- Head of Digital Channels, ING Bank Romania
Sorina Bera, CEO of Allevo
Alex Balan- Chief Security Researcher, Bitdefender
Irina Minzala*- Romania Recruiting Lead, Accenture
Elena Manaila*- HR Manager, Gameloft
Matthew Dezzani- CEO, Digitaljob
Andreea Paun- Managing Partner, Griffes
During the event, senior executives, industry experts, entrepreneurs and C-level decision-makers will gather to engage in a key conversation with industry peers, aiming to find the best business solutions for this digital era.
Focus on Technology & Telecom has become an exceptional platform to share ideas, seek new business partners and find out more about the the most relevant business drivers in the industry that have a major impact in any type of business, be it large, medium or even start-ups.
More information about the agenda of the event, topics of discussion and speakers can be found on the event page.
Those interested in participating at the Focus on Technology & Telecom 2017 can register online or directly by phone at +40 31 040 09 31, or email events@business-review.ro.
Event partners: Digitaljob, Telekom Romania, GTS, Unirii View
Event sponsor: Vastint
With the support of: Aqua Carpatica, Holograma 3D, Samburesti
Community partners: ANIS, CIOCouncil