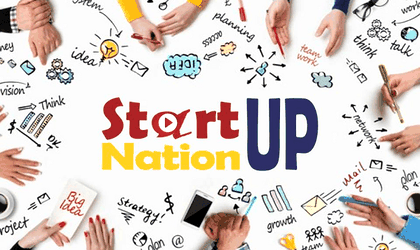 Stefan Radu Oprea, the minister of the Business Environment, Trade and Entrepreneurship, said on Friday that the Start-Up Nation programme created over 21,000 jobs in Romania in 2017, and that 16,000 of those jobs went to people who were previously unemployed, graduates or members of disadvantaged groups.
"The main purpose of the Ministry for SMEs and the Business Environment is to develop public policies, including policies that increase the digital capacity of SMEs. Here we're talking about the Start-Up Nation Programme, the star of the programmes we manage as a ministry and which targets 10,000 SMEs annually in order to reawaken the entrepreneurial spirit in Romania. There have been 19,297 applicants, and 10,000 applications were verified and contracts have already been signed for 8,444 of them. We're working within parameters. Over 2,200 payment requests have been submitted and over 2,000 payments have been made. The Start-Up Nation success story is a reality. Those who dared to believe in this programme have had their dream businesses become a reality. Start-Up Nation is reaching its target: over 21,000 jobs have been created in Romania in the 2017 edition, with 16,000 among the unemployed, graduates or disadvantaged groups. Start-Up Nation also boosts the economy in the development areas we want: manufacturing, creative industries and IT," said Oprea.
Through Start-Up Nation, launched in 2017, a newly established company receives financing of up to RON 200,000, which can be 100 percent of the total value of the project. In the 2017 session about 8,600 business plans won the financing.
The minister also presented official data to show that Romania is a country of contrast, as it has a high level of internet connectivity at high speeds, but it doesn't use this to its advantage as much as it should.
"I am starting today's discussion with some data: 68 percent of Romanians have used a computer at least once in a year, compared to the EU average of 81 percent. This is data related to the digital capacity and training Romanians and SMEs currently have. 27 percent of Romanians have never used a computer, and the EU average is 14 percent. Also, 74 percent of Romanian households have bandwidth internet access. We are in the last place in Europe for the number of people who buy goods or services online and on the second to last place for the number of people who have used Internet Banking (7 percent compared to the EU average of 51 percent). Things can be very easily explained, as online retail exists in Romania but unfortunately there is no trust in the banking payments system. The number of SMEs with bandwidth internet access is 82 percent and we are close to the EU average of 96 percent. In a report published by the American group Akmai we see that last year we lost our first position for internet speed to Sweden," said the minister.