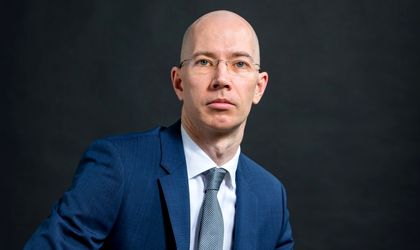 Szabolcs Nemes, managing director of Roland Berger, tells Business Review about the main trends in management and business strategy in 2019 and highlights the drivers behind the major changes in management over the past decade.
By Anda Sebesi
How have companies' management strategies changed in the past few years and what were the main drivers behind this shift?
Companies can no longer rely on the courses of action charted in their traditional long-term strategic plans and need to be prepared to adjust course much more frequently. Agility, adaptability and flexibility are some of the key characteristics that they are looking for when (re)designing their strategies. The drivers behind these changes often have to do with intensifying competition, increasing consumer sophistication or the speed of technological advancements. Also, in the past few years companies have been more inclined to conduct proper strategy definition exercises with more comprehensive outcomes as opposed to having and following some high-level directions or simply "muddling through".
What are the main trends in management worldwide in 2019?
Agility, adaptability and flexibility remain important requirements in 2019, too. There are lots of ongoing conversations about the latest management trends. I would like to draw your attention to only one, which we at Roland Berger call "re-entrepreneuring" as it refers to how mature companies can bring back the energy of their startup days and accelerate their growth. Traditionally, mature companies' role was to preserve their advantages, not take on new risks. However, in this era of fast-paced change, a defensive game is often no longer an option. The era of aging gracefully is over, regardless of the industry, we believe, and only the entrepreneurial will survive.
How many of these trends are present on the local market too?
All of them. Agility, adaptability and flexibility are of greater relevance than ever, especially given the often very unpredictable environment Romanian companies face. Furthermore, in Romania, we also see a more prominent orientation to data-driven decision-making – today data, be it on markets or consumers, is more easily available than before and our clients appreciate our support in analyzing it and turning it into pillars for strategic changes – we navigate complexity together.
How different is a strategy designed today compared with one from five or ten years ago?
Ten years ago we were supporting clients in designing strategies focused on turnaround, on helping them address the aftermath of the economic crisis and on getting them back on a healthy growth path. Five years ago the focus had already shifted towards growth and expansion-related topics, whereas today companies take a much bolder stance towards leveraging disruption and innovation-related opportunities and pursuing, in general, more ambitious medium- and long-term growth targets.
In terms of the actual approach, over the past ten years, also in Romania, we have multiple examples of companies from various industries realizing the shortcomings of traditional, more static, methods and opting for dynamic strategy definition approaches, based on scenario planning or war-gaming for example, as means to better cope with what was emerging as a VUCA (volatile, uncertain, complex and ambiguous) environment. Today the dynamic nature of these approaches is taken to the next level – they are enriched, for example, with more holistic 360 stakeholder assessments, future visioning, and not only simulating but also testing out certain strategic directions as part of the strategy definition, before actual implementation.
What generated this major change in business strategy?
The growing volatility and uncertainty in the strategic environment faced by companies have been the main triggers. Blurring industry boundaries, shifting economic fundamentals, the emergence of new types of competitors, changing role of assets, evolving customer and employee needs, and advances in technology are all underpinning this environment.
How big do you think the impact of digitalization on management processes and business strategies will be in the years to come?
I expect the impact of digitalization to be massive. Firstly, digitalization is removing or lowering market entry barriers, giving rise to new business models that both threaten established companies and create new opportunities that can be tapped into.
Secondly, it is fundamentally changing consumer behavior, putting the consumer in the driver's seat, and companies will need to anticipate, adapt and come up with answers to that. Thirdly, digitalization and technology enable evolutions of the operational models and structures of companies that are necessary for successfully executing the strategy.
Just one example here: we already see how modern technologies provide, in many cases, real-time insight into changing market demands and in the following years in many cases this can further evolve towards instant feedback to be used to swiftly adjust the course of a strategy.
Fourthly, it is irreversibly changing the nature of human work – certain human work streams will be altogether eliminated or replaced, while critical thinking, creativity and strategic decision making will become highly important skills for the employee of the (near) future.
How do you think a business strategy will look ten years from now?
In the future the impact of megatrends will only accelerate, causing further industry disruption and the need to reinvent business models. In a world characterized by uncertainty and "unknown unknowns", strategy is likely to become even more important. The complexity of the world around us will only increase, and the greater the complexity, the greater the need to reduce it and to properly navigate it.
This is where strategy, good strategy, can help. I expect the core components of strategy to remain the same and to be essential in the future, too. For example, conducting sound strategic analysis rooted in data and based on facts will continue to be invaluable. That being said, the requirements for adaptability and agility of strategy will become more stringent and the need for flexibility and the frequency of updating it based on significant external evolutions only greater. Furthermore, as the technologies around artificial intelligence mature, these will become more important as potential building blocks of strategy and ultimately as tools for crafting superior strategies.