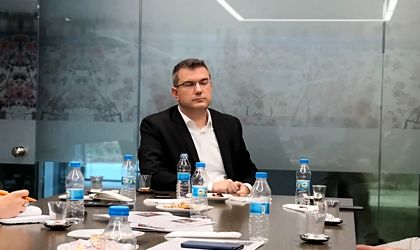 Romania is a few steps behind when it comes to buying technologically advanced buses, but this doesn't mean that there is no market for lower tech buses. Actually, Romania is one of the top countries using Isuzu buses in public transportation, according to Hakan Kefoglu, Export director at Anadolu Isuzu Otomotiv.
"We design our own buses and export to 45 countries. The top countries where we are exporting account for almost 18 percent of exports, but every year this top 10 changes. But among the top countries you can find France and Romania. Wherever you go in Romanian cities you will find some of our buses. In Romania we have very large fleets, and it is natural to have 3 or 4 teams who coordinate everything there," said Hakan Kefoglu.
Tender of buses in Bucharest – good deal, but Isuzu were not present
According to Kefoglu, the last year guses tander won by Otokar in Bucharest was a good deal, but, unfortunately they were not present.
"We would've loved to take part in last year's tender, but unfortunately for us, we didn't have back any 18 m buses back then. It would have been easier for the municipality if an auction that big had been divided into several smaller tenders, by bus size or by number, let's say 50. On the other hand, we are delivering very hi-tech buses, but they are not so useful in cities that don't have an integrated system. In Israel for example, the buses use a system where if the bus goes by a pharmacy, the display inside the bus will play a commercial from that pharmacy. And the companies that manage bus fleets or municipalities have a lot to gain from integrated systems," the export director said.
Risk management in Romanian cities
When Isuzu delivers buses in any country, they take into account any possible risks. "50 percent of the cost of a bus goes towards its protection. Even if the climate changes in Romania from one city to another, our buses are tailor made. Like I said earlier, if you are not careful with the buses you sell, the cost could increase for you by up to 30 percent in after sales," said the official.
Isuzu buses: numbers in Romania
The number of Isuzu buses sold in Romania over the past 20 years approaches 1,500 units. The best selling model is Isuzu Turquoise, with more than half of the total (863 units).
According to Magda Pesu, the GM of Anadolu Automobil Rom, the Romanian importer of Anadolu Isuzu Otomotiv, among city buses, the VIP model is Isuzu Citiport, which has been sold in the past two years, adding up to 245 units.
A new model will soon appear on the Romanian market, called Novociti Life, and it is expected to be a big hit in smaller cities, as it mostly targets cities with narrow streets and low passengers numbers.