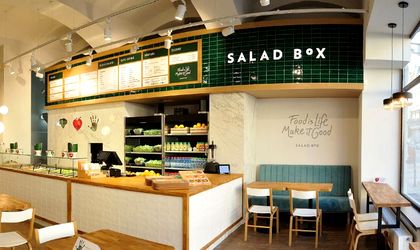 Salad Box is a Romanian healthy food chain that started in Cluj-Napoca and expanded throughout Romania and to 11 other countries (USA, UK, France, Ireland, Spain, Italy, Bulgaria, Czech Republic, Netherlands, Hungary and Algeria) in just a few years, with a simple concept: create your own salad by choosing from a wide range of ingredients.
Since the opening of the first Salad Box shop in 2012, the company now has 10 own locations and 60 franchises, with a total of 910 employees.
The Salad Box franchise
Interested in opening a franchise shop? Salad Box provides all the necessary information for those who want to manage their own location.
According to the company, opening a Salad Box franchise has multiple benefits: there's high demand on the market, you'll have a unique business concept and model, a fast return on investment and a high profit on income.
There are four types of Salad Box shops you can open: shopping centers; business centers; home delivery; street/pedestrian locations. A Salad Box location usually covers between 40 and 100 sqm and requires about 10-15 employees.
You don't necessarily need business experience to open a franchise, as the company provides training for all its franchisees.
How much does it cost?
The Salad Box franchise tax for Romania is around EUR 15,000, Dan Isai, the founder of Salad Box, tells BR. The tax may vary depending on the type of shop you want to open. The contract is signed for a five-year period and can be subsequently extended.
In exchange for the franchise tax, the company provides support in site selection and restaurant design, basic and ongoing training, as well as various support services like consultancy, marketing, visual identity, software, etc.).
Besides the franchise tax, you'll also have to pay the following monthly fees: Royalty fee: 3.5 percent of sales revenue; Marketing fee: 1 percent of sales revenue.
In total, previous Salad Box franchise owners have invested an average of EUR 60-70,000 into their shops, or around EUR 1,000 per square meter. This also depends on where the shop is located, whether the location involves refurbishment or just a new design and other similar factors.