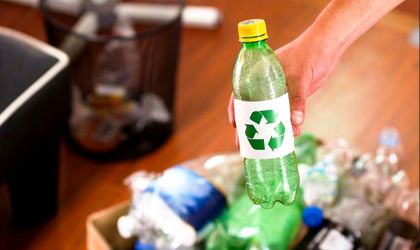 The waste that the human world produces at global scale, either coming from houses or industrial activity, represents a problem that we all have to face and fix. Fortunately, there is a road for all EU countries to follow to increase recycling and reduce landfill.
The world's largest consumer of waste was, until last year, China. The country was recycling about half of the globe's plastic and paper products but in 2017 it stated that doesn't want to be "world's garbage dump", a decision came into effect on January 1 this year. China has not really stopped recycling; it is just not taking any more bad quality waste – meaning that there was too much mixed waste coming into the country. Mixed waste is plastic or paper mixed with food waste or contaminated by it, which lifts the humidity in the recycled waste, making it more difficult to process and with less recycled output.
China's ban covers imports of 24 kinds of solid waste, including unsorted paper and the low-quality polyethylene terephthalate used in plastic bottles, and sets new limits on the levels of impurities in other recyclables. China has been processing more than half of the world export of waste paper, metals and used plastic.
The United States of America is the biggest exporter of waste, sending out of the country more than 13.2 million tons of scrap paper and 1.42 million tons of scrap plastic, most of it in China, according to a study by the U.S. Institute of Scrap Recycling Industries. The whole industry of collecting and sorting waste in U.S. employs about 155,000 people and the value of exported waste in China was USD 5.6 billion in 2016.
The USA accused China of violating its World Trade Organization obligation of not treating domestic and foreign waste differently, but to no avail. On the other side of the ocean European Union representatives said that China's new policy will force scrap to be rerouted to third countries, which may not have facilities for safe recycling causing environmental damage.
Tipping point
The USA, Canada and most of the countries in European Union were depending on China to get rid of their scrap paper and plastic. So the issue will not go away easily, especially if you consider that China had been 'the solution' since the 1980s and 1990s, when the country, which had a lot of cheap labor, was eager for raw materials. Today, everybody is looking at countries like Indonesia, India, Vietnam or Malaysia but they can't cover the needs of the world's rich – at least not yet – as they just don't have the capacity to recycle at such a huge level.
The EU is not doing much better. Although it has proclaimed itself a 'champion' of recycling and reusing, the bloc collected 56.4 million tons of paper in 2016, of which about 8 million tons ended up in China. In the same year, the EU collected 8.4 million tons of plastic waste and sent 1.6 million tons to China. Last year Chinese imports of scrap paper from the EU stood at just 6.4 million tons and 1 million tons of plastic. And the ban was not in effect like it is in 2018.
The best solution to curb the buildup of waste is to recycle and reuse as much as possible. The EU, Romania included, has established a long-term road that should lead us to that goal. But that is not going to happen to soon. So right know a solution for getting rid of the pilling waste is incineration. The best example is Sweden, where the incinerators are so efficient that have run out of waste to burn. There is a problem there: while Sweden considers incinerating a recycling process, it is not quite so. Burning the waste is solving the problem of the landfills, but it's neither reusing nor recycling the waste.
Sweden had to close three of its high quality incinerators because they couldn't find any more suitable waste for them. And we have, in Europe, incinerators all over the continent, particularly in Sweden, Germany, the Netherlands and Denmark. But the carbon dioxide that results after burning is not seen very well anywhere in EU. In fact, at the last IFAT, the trade fair for water, sewage, waste and raw materials management, there were a lot of discussions over finding a way to trap the carbon dioxide (which can be used for a lot of purposes). But it will not be easy and not at all cheap.
Burning waste is a regular practice even in Romania, but mainly in specialized incinerators. For example, cement producers are using burned waste residue as binder for their final product, but only use low-humidity waste. The problem is that even the plastic is contaminated because it is not collected separately. This means that we are also importing waste for those incinerators that needs it. In the past there were also problems with those imports, with inspectors finding that what was supposed to be recyclable waste was mixed with household waste. Today it doesn't seem to be a problem, but we should not be complacent.
The European plan
According to the Circular Economy Program adopted by European Commission in 2015, by 2030 we should be ready to reuse or recycle 65 percent of municipal waste (with an interim target of 60 percent by 2025). Romania can postpone the term by five years under the condition that until 2025 there would be a 50 percent level of reuse and recycle and 60 percent by 2030. The program also states that we must reuse or recycle or recycle 65 percent of the weight of all packaging waste by 2025 and 75 percent by 2030. By the same year, 2030, only 10 percent of municipal waste would be allowed for storage in landfill; this deadline can be pushed back five years under the condition that only 20 percent of the municipal waste is in storage by 2030.
The European program for circular economy also prohibits the storage of separately collected waste, and sets out economic instruments to discourage waste storage and there will be simplified and improved definitions and calculus methods for harmonized recycling targets. An important stipulation is to cut the generation of food waste in primary and secondary production, in shops, restaurants and other food services and also in homes.
France, for example, banned food waste in supermarkets and restaurants a few years ago. Companies can sell food products at a marked-down price before the expiry date or donate them or prepare meals before the due date so it can last longer (until consumed). It is the simplest way to stop the waste, even if it is not fighting the waste at the primary source (the vegetable or livestock farm).
The laws are in place
Romania has quite a number of laws regulating the way the waste is collected and the amount that should be reused or recycled, including a National Waste Management Plan, that transpose the CE regulations in this field, including those from circular economy program. All the new regulations should become law after the government emergency ordinance for modification and completion of law no. 211/2011 and law no. 249 are adopted.
Under the Ordinance the minimum level of municipal waste collected and handed over to recyclers should be at 52.5 percent from total, while the level of waste collected and handed over to a sorting station should be at 95 percent. Also, the weight of waste coming from housing renovation, either interior or exterior, destined for landfill should not exceed 50 percent. Overall, the weight of municipal waste given to recyclers should be at 55 percent from total waste collected.
Today, the main problem we have is that garbage is not sorted and recycled selectively, combined with a lack of infrastructure to capitalize on waste. On their part, individuals should separate their waste by raw material (food waste, plastic, metal), while collectors should take them separately. We look at the example of Sweden and other developed countries and wish to emulate it (as they have the infrastructure and the mentality), but we forget they reached this point after decades of small steps. For example, Swedes who did not respect the garbage collection schedule would be given red thrash can so everybody could see that they are not 'good citizens' and today people would do anything not to be seen with a red bin.
There are many things Romania could do, and adopting and implementing the National Waste Plan is just the beginning. It should have plans based on 'the metabolism of the city' that can take into consideration the Romanian specifics of urban and rural areas. Reusable goods will soon get a boost in shops and supermarkets through a fee for the things like glass packaging. And while biodegradable waste can be used in agriculture as a fertilizer, paper, cardboard, metal and plastic can be recycled.
Romania waste in numbers
In 2014, the latest data available in National Waste Management Plan, a total of 4.95 million tons of municipal waste of all kinds was collected in Romania;
The most waste collected was from households, both separately and mixed. It reached 2.9 million tons and includes reusable or recyclable waste, while the garbage from the streets stood at 340,948 million tons;
The population account for 72 percent of all municipal waste collected, while public services waste made up 10 percent and other waste 18 percent;
The municipal waste collected in 2014 came to 249 kg per capita (for urban areas only) against an EU average is 474 kg per capita;
On average, household waste is 60 percent made up of biodegradable products (mainly food waste), while scrap paper and cardboard represents 12 percent, metals 11 percent and plastic around 7 percent.