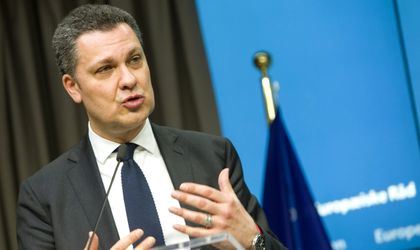 The Romanian Presidency of the Council of the European Union is hosting the Economic and Financial Affairs Council in Bucharest this week, and for the first time ever, they have invited trade unions and business owners' organisations to the summit. BR spoke to Luca Visentini, the General Secretary of the European Trade Union Confederation (ETUC), about the consequences Brexit will have for Romanian and other EU workers in the UK and what the UK economy will look like after the country leaves the bloc. 
There's a lot of trade between EU countries and the UK. A lot of countries have prepared contingency plans for a possible no-deal Brexit, which were made public for SMEs especially. What effect do you think such a scenario would have on workers?
The potential destruction that can come from a hard Brexit is terrible. Not only in the UK but also in the EU, because there are so many products going across the border, as well as services. It could be potentially disastrous for the UK market and workers, first because a lot of jobs will be lost but also because they are at risk of seeing their working conditions being undermined. On the other side, we have a problem in Ireland, as well as on the other side of the Channel, in continental countries where workers are really worried about the possible developments.
That's why, while we would welcome a postponement that hopefully leads to a different and better agreement, it's also important to understand what is going to happen in the future, because this is not just about the withdrawal agreement and the UK Parliament not being able to find any solution, but it's also about starting talks about the future relations between the UK and the EU. On this, there's no clarity at all. Will it be a customs union, a single market, a Norway-style deal? Nothing is clear and we don't have any clue about what the UK politicians really think about the future, they don't seem interested in that. So we hope not only that there will be a postponement, but also a new round of elections in the UK so we can have a different government and parliament in place, which could lead to more productive discussions.
Can you tell us some of your estimations on the unemployment rate in the UK in case of a no-deal Brexit?
We have calculated that there is a potential 50 percent increase to the current unemployment rate, which is currently not the highest, but not the lowest, either. We are also taking into consideration the precarious jobs in the UK, which take this rate to 10-12 percent – it's not just about the official unemployment rate but also these zero-hour contracts and all kinds of precarious work. The risk is that this number could reach 15-18 percent which would be disastrous, especially in the short term. With time, they'll probably be able to recover a bit, but the immediate impact would be huge and there are no resources to face all of this.
If companies in the financial services and industrial sectors start relocating to continental Europe because of Brexit, there's also a risk that workers would have to relocate and they'll turn into migrants, and they'll have little chance to find a job on the continent.
Romania has the second largest immigrant community in the UK. Do you have a message for Romanians working there in terms of their jobs in the UK?
We have been struggling for months and months, since the Brexit referendum, to make sure that we can truly protect all the Europeans working in the UK. We have also negotiated with the European Commission and the UK government to make sure that this is written down in the documents.
The withdrawal agreement can potentially protect these people, but there's also a problem in terms of the next agreement – the medium and long term. For the moment, they shouldn't have any significant problems, but in the long run we don't really know because we're not sure what the future relationship will be like.
I understand that this is not a very reassuring message, but we are living in total uncertainty and all we can say to Romanian and other EU workers in the UK is that the European trade unions together with the national trade unions and the UK trade unions are really ready to fight until the very end to make sure that these people are protected – both EU citizens working in the UK and also British citizens working in EU countries.
The protection of workers, their jobs and working conditions, is what makes up our entire agenda. It's not only about keeping the job, it's also a matter of risking your salary and working conditions declining. When you become a migrant worker, you can be placed against a British worker and be discriminated. We need to ensure decent working conditions, decent salaries and decent protections. This is what's really at stake.
In terms of SMEs, in Romania they employ 30 percent of the total number of workers, but they generate 10 percent of GDP. The UK is one of the most important trade partners for Romania, and a lot of SMEs in Romania have trade relations with the UK, so their employees may be affected too. Do you have an estimation of the impact on this segment?
SMEs are the most at risk companies. Corporations can relocate relatively easily and keep their business, but SMEs are linked to the local dimension and if they also work in a supply chain that is linked to the UK they really risk being killed. SME workers are the ones who are more at risk on both sides of Brexit.
In the discussions we've had so far with Michel Barnier we have always emphasised the need to protect companies and workers. Politically, they can do whatever they want, but we have to make sure that people and economic activities are protected.
As I said before, the withdrawal agreement should provide a good amount of protection for workers but that's only for the short term. Then we will have to start new negotiations, about the future. I'm afraid that, if this government and parliament continue in the UK, it will be impossible to negotiate over the future. Some want to be like Norway, others want to be like the US and there are also many who are in the middle. We are ready to participate in these discussions.
At the EU level as well as at the UK level, we've delivered a common strategy. Employers and trade unions have been on the same page in wanting to make sure workers are protected.
This is your first time attending an ECOFIN conference. Were you glad to receive this invitation?
Absolutely. I think that the Romanian Finance minister did a great thing by inviting the social partners to participate in this discussion – it's the first time ever. As I said in my speech, these are Finance ministers who are designing European economic policy, but that's going to have an effect on citizens, companies and workers. So I told them that the study being presented now says very clearly that there is major social, political and economic discontent spread among people in Europe and they have to take care of it because it's their responsibility to listen to the people and understand that what they decide is not just theoretical, but it's going to have an impact on people's lives.
The Romanian presidency has made a great change by inviting us, but we want to make sure that the future presidencies will do so as well.