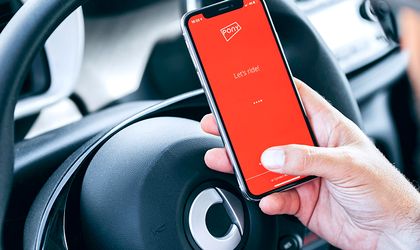 With the accelerating growth of electric scooter services such as Flow, Lime, and Wolf-E, and their increasing impact on Bucharest's citizens, alongside ride- and car-sharing apps, Romanians have more and more options when it comes to reaching the office or getting home after a night out. 
By Romanita Oprea
With a more regulated market, ride sharing in Romania is becoming increasingly popular, with more and more Romanians choosing the alternative services over driving their own cars or taking public transport. And the advantages are clear to see. From the ease of using an app and just jumping in someone's car and enjoying your own personal space, to avoiding the costs of vehicle ownership and the hassle of finding a parking space in a crowded city, the new ride-sharing services are here to stay and give consumers an easier journey each day. 
In Romania, the market is getting more competitive by the day, with things changing faster than a speeding scooter.
A REBRANDING BOOST
In February, the advertising agency DDB Romania undertook a new positioning for the brand Clever, alongside a campaign image. Based on rigorous research, in partnership with D&D Research, carried out on clients and taxi drivers, internal interviews, meetings and discussions with all involved parties, the agency said it had found the right insight to enable a correct brand positioning. "In the last five years Clever has become the leader among taxi booking apps in Romania. Our vision is for urban mobility to be easily accessible by anyone; no matter the price, waiting time or location, transport should be something simple and fast. Through the launch of the non-taxi service, we've kept the promise of security and we have grown the number of available cars. In this context, Clever's rebranding and the entire communication campaign came as a natural step. Clever aims to continue to grow, making sure that we have the right strategic positioning. Our promise is to offer our passengers the shortest car response time and the best price for a quality service," said Ivona Babarelu, head of marketing at Clever, at the time.
Through the research, the agency discovered that few of the app's users managed to tell the difference between taxi companies and Clever and that most of them associate the idea of "taxi" with aspects correlated to motivations and behaviors of a functional nature (a taxi represents a major transport service that gets one from point A to point B at the necessary time). Therefore, believes the firm, Clever is the knot between you and the people that you meet, with whom you spend time, those you care about. Clever is a connector of people. And furthermore, Clever is fast, efficient, honest, tech savvy, urban. Clever is the engine of your experiences with others.  From here came the tagline "Go".
Since the new positioning, Clever is a unique app on the Romanian e-hailing market because it is the only product that offers both ridesharing and taxi services in an integrated platform.
The company seeks to offer an instant solution and at the best price for anyone in need of a ride. "Clever is a constant innovator that challenged the status quo in the taxi industry and is right now challenging the mobility industry to offer the best solution for both passengers and drivers, making transport and cities smarter and more affordable through technology. CleverGo covers 30 cities in Romania and is expanding its portfolio in offering ridesharing alternatives to these cities – currently, the service is available in Bucharest, Timisoara, Cluj-Napoca, and Iasi. We are competing with all transportation options available, be it the preference for a personal car, public transportation or other apps that provide e-hailing or rental services," added Babarelu.
Moreover, according to its representatives, CleverGo was launched to better serve the demand that it could not fulfill. Because the number of taxi drivers is limited by law in each city, there were situations where passengers could not find a ride. So the company's reaction was to extend its fleet with ridesharing services in order to provide a better service level for citizens. 
"In the first six months, we managed to fulfill 30 percent more requests from passengers. We created better working ways for drivers and increased their weekly incomes. The alternative transport service had an impact on the taxi industry as well. Taxi drivers earned EUR 100/month more than they did before the launch. The positive impact seems to have reached everyone involved; Clever is on the right track," said the company's head of marketing. 
Clever covers 30 cities in Romania and is expanding its portfolio in offering ridesharing alternatives to these cities and it's the is most successful among users in Cluj-Napoca, Iasi, Brasov, Constanta, Oradea and smaller towns in Romanian where it is the only e-hailing app for drivers and passengers. For 2020, the marketing representative said, Clever wants to see more solutions for urban mobility being developed and a smarter city where every means of transport is connected. "The future is about freedom, the freedom of movement and options. Let's imagine a revolution. A revolution that will change the way one sees and accesses mobility. A future where your car is there where you need it right now. Where parking is there where you want it to be right now. Where you're free to move through your city and your community the way you want, whenever you want, at an accessible cost," added Babarelu. 
Another important rebranding on the market was the transformation of Taxify into Bolt. Taxify, the ride-hailing company from Estonia backed by Didi and Daimler and now active in 30 countries, removed "taxi" from its name and became Bolt, the name that it has been using for its new electric scooter service, to double down on providing multiple transportation options beyond private cars. Tapping the basic meanings of "bolt," the new name implies speed, as well as electricity.
"We are bullish that the future is fully electric and so we wanted a name that moved us away from the combustion engine," said Markus Villig, CEO and co-founder, quoted by TechCrunch. Moreover, Villig added that given their ambition to solve transportation problems on an increasingly broad scale, they want the brand to reflect the company's future rather than its past.
COMPETITION MOVES UP A GEAR
Probably Bolt's biggest competitor internationally, but also in Romania, Uber, is staying strong on its positioning. "We are currently undergoing a complex transition period required under the new alternative transport law. Uber is a multimodal urban transportation platform through which riders all over the world can find an extended service offer in the same place: electric cars, carpooling, bicycles, taxis, car-sharing, helicopters and public transport – so that we can provide many alternatives to the personal car. By integrating many types of transportation, Uber supplies its riders with a large diversity of services to choose from, in order to give them the best solutions for moving around the city. Also, Uber Green in Bucharest is the first Uber product of its kind in CEE," said Nicoleta Schroeder, head of Uber Romania. 
In this context, the company says it welcomes competition, considering it another reason to push to improve its services. "The growth of the car-sharing industry has impacted our business in a good way because together we improve the cities that we operate in. Moreover, it has helped users see the benefits of technology-driven transportation services, and engage with them in order to try other services as well. I am excited about 2020. We have worked hard to have the service well defined inside the law so we could pursue more and more lines of business to support the cities in which we operate," concluded Uber's representative. 
The latest company to enter the ride-sharing Romanian market is Yango, the e-hailing app owned by the Russian company Yandex. At the moment of launch, the company had 55 partners in Romania and around 3,000 registered drivers. Moreover, Yango uses its own cartography and direction system mapping, navigation and machine learning technology. "We believe that our users will appreciate our unique functionalities such as ordering a car for someone else, reserving several cars from one phone at the same time, etc," said Andrei Voicu, regional director Yango Romania and Moldova, at the time of the launch. 
At the same time, Musheg Sahakian, global expansion director for Yango, added that Yandex is one of the few companies in the worlds that uses the technology of self-driving cars in real time. Cars have been tested on public roads in many countries and the company is looking forward to being able to launch them in Romania one day.
STARTING FROM CLUJ-NAPOCA
The first Romanian car-sharing service was introduced on the market by two young entrepreneurs – Demis Ghindeanu and Iulian Padurariu – who got the idea after using a similar service in Austria. "Get Pony" was launched with a EUR 100,000 initial investment which in two years' time reached EUR 1 million. The service was initially available in Cluj-Napoca, followed by Bucharest. "Since we launched the business in 2015, our revenue has grown by 50 percent each year, compared to the previous year. We expect 2019 to follow the same ascending trend and even exceed the revenue growth by 50 percent. The future looks bright for car sharing in Romania. We are the first and biggest car-sharing service in Romania. We offer users a fleet of over 160 cars which they can drive anytime, anywhere, by using the GetPONY app. Our aim is to help create the city of the future, with less pollution, less traffic, in which people spend less on transportation but enjoy all the comfort a personal car has to offer," said Diana Otelea, chief financial officer at Pony Car Sharing.
Moreover, looking at other services that provide ridesharing, the Pony Car representative believes that they are complimentary and improve the consumer's experience. 
If you want to go out and party, you can drive a Pony to the bar and come home with an Uber, for instance. "Electric scooters are an environmentally-friendly alternative, but the resources of this service are limited. Pony provides the space you need to carry luggage or groceries and it also provides intimacy, comfort and total control," added Otelea.
And, for the moment, the company's main challenge on the market is to promote the idea of sharing. In Romania, the draw of ownership is still very powerful. In order to build a long-lasting, reliable infrastructure consumers need to understand the advantages of the sharing economy. In this context, Pony has made it its mission to educate the public in regards to how a car-sharing service can change our cities for the better. 
The company focuses on urbanites between 25 and 40: Millennials, early adopters, the easily adaptable, who don't care too much about ownership – people who are always looking for the easiest solution, which usually involves using the latest technologies. People who are open to new experiences and smart ways of transportation. And, since the company has been active on the market, more and more people have come into this category. 
"Currently our service is available in three Romanian cities: Bucharest, Cluj and Alba Iulia. We are focusing on further developing the service in Bucharest, where more cars are needed in order to keep up with demand. In the future we are definitely planning on expanding to other important cities as well," concluded Pony Car Sharing's CFO. 
And it looks like the competition is rising on the sector with the local launch of Spark, a company with Lithuanian and Bulgarian shareholders. Spark Romania describes itself as an alternative transport service, a car-sharing app oriented exclusively towards electric cars. With headquarters in Vilnius and Sofia, Spark comes to Romania "to lighten Bucharest's traffic and free it from the pollution and unnecessary traffic noises".
The local car sharing scene is also home to Caby, which is available only in Iasi, offering also only electric cars. 
Hopes for the Romanian market in 2020
"I would like to see more innovative partnerships, either public-private or private-private, that would help cities reduce traffic, congestion and pollution. I believe our partnership with the city and the people of Bucharest is just getting started!"- Uber
"We want to see more urban mobility solutions being developed and a smarter city where every means of transport is connected. The future is about freedom, the freedom of movement and options. Let's imagine a revolution. A revolution that will change the way one sees and accesses mobility. A future where your car is there where you need it right now. Where parking is there where you want it to be right now. Where you're free to move through your city and your community the way you want, whenever you want, at an accessible cost." – Clever
"We hope for car sharing legislation and more support from local authorities, since this service has a lot of advantages for the community. It's proven that a shared car can replace up to 15 personal cars in traffic. Car sharing makes cities more breathable, less crowded and noisy, while also freeing up parking spaces. This means people can get from A to B faster and cheaper, in a friendlier city."- Pony