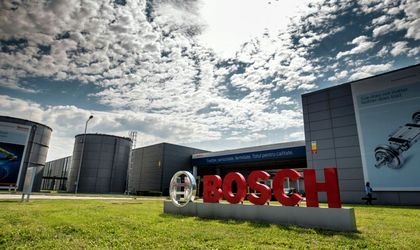 Bosch, the global leader in technology and service provision, ended the fiscal year 2017 with consolidated sales of RON 1.9 billion (EUR 416 million) in Romania, which represents an increase of 26 percent over the year previous. Net sales of RON 4.2 billion (EUR 931 million), including sales of unconsolidated companies and domestic deliveries to affiliated companies, registered an annual increase of about 57 percent.
"Romania has become an increasingly important market for Bosch in recent years," said Mihai Boldijar, general manager Robert Bosch and representative of the Bosch Group in Romania at the annual press conference of the company in Bucharest. "Bosch has maintained its strong position in Romania, with strong growth in 2017, despite the difficult economic and political climate in the country," Boldijar added. The company expects to continue to develop all sectors of activity in 2018. "In the first three months, Bosch has again achieved a significant two-figure increase in sales," Boldijar said.
The number of Bosch employees in Romania reached around 6,500 on 31 December 2017, representing an annual increase of 36 percent. It is expected that this number will increase in 2018, especially in locations in Cluj, Blaj and Timisoara.
Bosch is expanding its production activities in Romania
Bosch invested about RON 453 million (about EUR 100 million) in Romania in 2017, especially in the development of production units for Mobility Solutions in Cluj and Blaj. The automotive electronic components factory in Cluj has increased its production capacity and product portfolio to meet customer demand. In this production facility, Bosch has been manufacturing, from 2014, electronic airbag control units, multiple camera systems and driving assistance, as well as electronic safety systems that increase road safety and driver comfort. In October 2017, Bosch inaugurated a Training Center at the factory, dedicated to the training of students in the dual education system, but also to the continued professional development of its employees. The investment in the new 4,400 square meter building and modern training rooms amounts to approximately six million euros.
Moreover, Blaj's production unit registered a significant increase in production during 2017, especially in the Mobility Solutions sector. Due to the high demand, the company has increased its production capacity for high-quality car components such as oxygen sensors and transmission control components and is preparing to add new products to its portfolio in 2018 such as Oxygen Emission Sensors azote. Since 2007, the plant also produces components for the Industrial Technology sector and will continue to strengthen its position by getting new projects in this area. Bosch has begun building a new office building this year and will be inaugurated in 2019.
In addition, as part of its commitment to Romania, Bosch has decided to expand its production activities to the Consumer Goods Sector. BSH Appliance has recently acquired a 40-acre land for the construction of a washing machine factory in Simeria. In the coming years, the company will invest around EUR 110 million in this project. BSH will begin construction of a production hall as well as a logistics center and office building this year. BSH Appliance plans to start producing washing machines in Simeria in 2020. From 2022, the new plant will have an annual production capacity of over one million washing machines for the European market.
Strong development of R&D activities in Romania
Bosch has constantly expanded its research and development activities in Romania since 2013 and has started building its own Engineering Center in Cluj-Napoca this year. The company will invest about EUR 25 million in this project. The new building, which will have an area of ​​approximately 17,000 square meters, will focus, since 2019, on the activities previously deployed in several locations in Cluj. At present, approximately 400 employees are working in the offices of the Engineering Center in Cluj-Napoca. The R&D Center in Cluj develops state-of-the-art products in software, hardware and mechanical areas, as well as engineering quality and reliability.
Growth for the outsourced service division
2017 was a year of significant growth for Bosch Service Solutions in Timisoara, which offers outsourcing of business processes in 20 languages. The company strengthens its position on the local market by relocating its operations to a new office building in July 2018, where Bosch rented four floors with a total area of ​​7,300 square meters and plans to expand the rented area in the coming years. In addition, as part of its commitment to education, Bosch launched the Junior Accounting program in Timisoara this year, which aims to prepare more than 100 students for a career in the financial and accounting field by next year.
Positive development of Bosch business sectors
Within the Mobility Solutions sector, the Automotive Aftermarket division has been aligned with market growth in 2017. With new partners, Bosch has increased its network in Romania to more than 350 car services. Also, the Construction and Energy Technology sector has grown over the past year. Bosch's Thermotechnics division continued to increase its sales in 2017, with a special success especially with condensing thermal power plants.
In addition, the consumer goods sector had very good performances in 2017. BSH Appliance has continued the trend of recent years, registering a two-digit growth and overtaking the domestic market for large and small appliances. In the 18 years of presence on the Romanian market, the company sold over four million household appliances. And the Electric Tools Division has achieved a strong double-digit growth in 2017, especially in the professional, DIY and garden tools market where sales have increased by more than 30 percent. One of the growth factors is the connectivity of Bosch intelligent power tools, for example, smart laser telemetry.
Bosch Group: Global Strategy and Business Perspective in 2018
Bosch wants to continue to grow during 2018, despite the difficult economic climate. After achieving record results in 2017, also taking into account economic and geopolitical risks, the Bosch Group expects sales revenues to grow this year by 2 to 3 percent. In the first quarter, sales revenue generated by the company was at the same level as the previous year, even 5 percent higher after currency-adjusted adjustments. "Our company is unparalleled when it comes to merging in a unique way the vast expertise in connectivity with industry and extensive product knowledge. This is the Bosch Group's unique sales offer," says Dr Volkmar Denner, CEO of Bosch, at the annual press conference in Renningen, Germany.