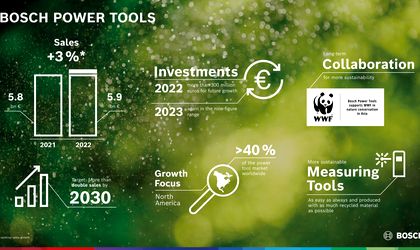 Following a series of record-breaking years, Bosch Power Tools increased its sales in 2022 by 3 percent to 5.9 billion euros amid a challenging economic environment.
"Despite massive cost increases – especially in materials and logistics – and a tense earnings situation, we managed to further grow our business," says Henk Becker, President of Bosch Power Tools. "At the same time, we are looking ahead: We plan to more than double our sales at Bosch Power Tools by the end of this decade."
Last year, the company invested more than 300 million euros in the future growth of its value chain and product portfolio. Initiatives included, for example, the expansion of the strong accessories business, infrastructure projects to boost capacity, and the further extension of the company's two multi-brand 18V battery systems: the AmpShare Alliance for professionals in trade and industry, and the Power for All Alliance for applications in and around the home. As part of its growth strategy, Bosch also plans to acquire a stake of roughly 12 percent in Husqvarna AB to expand its multi-brand battery cooperation. The long-established Swedish company markets not only the Husqvarna brand, but other successful brands such as Gardena and Flymo. For users who rely on Bosch battery technology to power different tools from different manufacturers, the extension of the battery alliances means they can look forward to an even wider range of applications.
Nine-figure investments ensure long-term success
"In an environment that remains challenging, we are making strategic investments to secure growth opportunities worldwide and to strengthen our international presence," Becker says.
This year, the company once again plans to invest a nine-figure sum. One of its focus areas is North America, which makes up more than 40 percent of the power tool market worldwide. By sharpening its product portfolio to best meet the needs of North American users and expanding its marketing activities and sales structures, Bosch Power Tools plans to boost its appeal amongst existing target audiences and to expand into new segments.
Sustainable growth: Collaboration with WWF Germany speeds up transformation
The company is also determined to further pursue its focus on sustainability. "We believe business and responsibility go hand in hand. With this long-term partnership with WWF Germany, we are forging ahead with our commitment to sustainability and speeding up our transformation," emphasizes Becker. Bosch Power Tools has been working steadily in recent years to reduce its environmental footprint and has already rolled out projects to cut CO2 emissions and conserve resources, in line with the sustainability goals of the Bosch Group. Since 2020, all business divisions of the Bosch Group have been climate neutral (Scopes 1 and 2), meaning not a single site worldwide leaves a carbon footprint today. The company has defined four levers for successfully achieving climate neutrality: improving energy efficiency, generating more energy from renewable sources, expanding the purchase of green electricity, and – as a last resort – offsetting unavoidable CO₂ emissions with carbon credits.
Beyond that, Bosch Power Tools will relentlessly pursue the reduction of upstream and downstream emissions (Scope 3) right down to the product level, with the goal of bringing figures down by at least 15 percent from the 2018 baseline by 2030. WWF Germany will work closely with the business division and weigh in with its expertise via a sounding board and consulting on topics such as the further development of the climate and packaging strategy. Another major task of the collaboration, which is set to last at least five years, includes training and raising awareness of the company's associates so that they can participate in and contribute to the company's sustainable transformation. At the same time, Bosch Power Tools will support WWF Germany on nature conservation projects and help fund projects in Asia to accelerate the change urgently needed in light of the current climate and biodiversity crisis. With this partnership, Bosch Power Tools is a pioneer in its industry.
Full measuring tool range for DIYers now more sustainable than ever
"We are working relentlessly to make our entire product portfolio more sustainable. The insights we have gained so far, for example regarding the opportunities and limitations of recycled materials, continue to flow into our processes and production," highlights Becker.
In launching the DIY edition of its entire measuring tools portfolio, Bosch Power Tools is taking a big step forward in its sustainability goals: Starting in the fall of 2023, 23 new and improved measuring tools will be available along with their related accessories and packaging, all featuring a new sustainability concept and produced with as much recycled material as possible. The company looked at the entire value chain to identify ways to save on materials, particularly on plastic, and replaced these with more environmentally friendly components. Many lessons were taken from the development of the Quigo Green, the company's first measuring tool to feature a sustainable product concept.
"We always look at the entire value chain, as even the seemingly small changes add up to make a big impact! Our goal is to be a role model for the industry and to motivate everyone to do their part for a better living environment", concluded Becker.