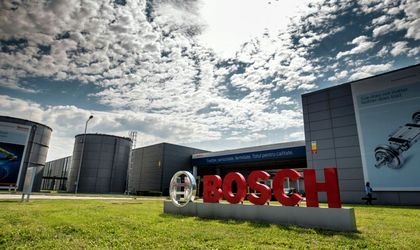 Bosch Group recorded sale revenues of EUR 78.5 billion in 2018 and a gross operational profit of EUR 5.5 billion. The gross operating profit margin has improved to 7 percent despite large investments in areas such as electrification and automation of mobility.
The company has increased its R & D spending to EUR 7.3 billion or 9.3 percent of sales revenue, while capital expenditures rose 14 percent to EUR 4.9 billion or 6.3 percent of sales revenue. Bosch created over 8,000 new jobs in 2018, and more than half of them were in R & D.
For the current year, Bosch expects economic growth to be reduced. According to the company's estimates, the global economy will grow by only 2.3 percent. Trade disputes, high levels of debt in European countries, and falling production in the automotive industry are some of the factors that are hampering the global economy. Despite the difficult environment in industries and major regions for Bosch, the company expects sales in 2019 to exceed slightly the previous year's levels. In the first three months of the year, sales revenues were similar to last year. Despite these short-term forecasts, the Bosch Group is stepping up its efforts to combat climate change and improve air quality.
"Climate change is not a science fiction story; it really happens. If we take the Paris Agreement seriously, then the climate initiative should not be seen only as a long-term goal," said Volkmar Denner, chairman of the board of directors of Robert Bosch GmbH. "We also take seriously people's concerns for better air quality in cities. As a leader in innovation, we want to provide technology solutions for environmental issues."
From 2020, Bosch will become the first carbon-neutral industrial company
According to the International Energy Agency (IEA), the production process is responsible for almost one-third of global CO2 emissions. That's why Bosch is stepping up its efforts, with already successful success, to reduce CO2 emissions.
"We will be the first major industrial company to achieve the ambitious CO2 neutrality target in a little over a year. From 2020, Bosch will have a zero carbon footprint," said Denner. "All 400 Bosch locations worldwide will be CO2 neutral in 2020."
To achieve this goal, the company will use four major levers. Bosch will increase energy efficiency, increase the proportion of renewable energy in the power supply, purchase more green electricity and offset unavoidable carbon emissions. These actions will help avoid 3.3 million tons of CO2 by 2020. You can find out more about Bosch climate protection plans here.
Optimization of internal combustion engines – through artificial intelligence
The company estimates that about 75 percent of the total number of new and light commercial vehicles will continue to be equipped with internal combustion engines in 2030. Taking this into account, Bosch will continue to invest considerable amounts of gasoline and diesel engine optimization. The company also uses Artificial Intelligence (IA) to further develop internal combustion engines. For example, Bosch uses IA to predict exhaust gas treatment according to the models created based on individual driving styles, as this can further reduce vehicle emissions. Approximately 3,500 employees in the field of exhaust gas treatment and exhaust gas sensors generated sales of EUR 2.3 billion in 2018. That figure is set to reach EUR 3 billion by 2025.
Electro-mobility: 14 million vehicles by the end of 2022
Bosch also expects electric cars to play an important role in improving air quality in cities. Bosch strives to become a leader in the emerging mass-market in the electro-mobility field. By 2025, the company expects to generate a sales figure of EUR 5 billion in the electro-mobility field, ten times the value of 2018.
"In the context of increasing competition for value creation in the field of technology for powertrains, we can see good opportunities for the future. Our expertise on systems, our comprehensive product portfolio and the large-scale production economy make us the preferred partners of automotive manufacturers and mobility providers around the world," said Denner said.

Components of Bosch powertrains are already present in over a million electric vehicles worldwide. Until the end of 2022, this number will increase to 14 million. So far, the company has carried out projects on powertrains for 50 electric vehicle platforms. Only 30 new projects were carried out last year. "We also want to make progress in fuel cell technology," Denner said. To this end, Bosch recently announced an alliance with Powercell, a Swedish manufacturer of fuel cell batteries. These accumulators represent two-thirds of the value of a fuel cell system. "Together with Powercell, we plan to sell batteries and launch them by 2022 at the latest," said Denner.
Automated steering: fuel consumption and low emissions
Automated driving will also play an important role in improving air quality. According to the research firm KE Consult, automated management can reduce fuel consumption by more than 30 percent – or 15 percent for Germany's motorways. More than 5,000 Bosch engineers are currently working on automated driving, almost twice as many as two years ago. As Denner observed: "By 2022, we plan to invest around 4 billion euros in automation and therefore in sustainable mobility." Driver assistance systems help develop the concept of automated driving. From the current figure of about EUR 2 billion, it is estimated that revenues will increase by almost 15 percent this year. Sales figures for sensors are expected to increase by 20 percent and sales of video sensors to 30 percent.
Fiscal Year 2018: Sales and profits have reached a record high
"The year 2018 was a successful fiscal year for the Bosch Group," said Prof. Stefan Asenkerschbaumer, Financial Director and Deputy Chairman of the Bosch Management Board.
Sales and results were again at high levels, as in 2017. Sales revenue totaled EUR 78.5 billion. The effects of the substantial exchange rate of EUR 2.1 billion had an impact on sales figures. After adjustments to the foreign exchange rate, sales increased by five percent without consolidation effects. Nominal, the increase was 2.2 percent. Gross profit (EBIT) in operations recorded a total of EUR 5.5 billion, from EUR 5.3 billion in the previous year.
"Despite the economic challenges, in 2019 we will continue to invest large amounts in the development of new technologies and business areas to ensure the future viability of the company," said Asenkerschbaumer. "Similarly, our commitment to reducing carbon emissions and climate action will not focus on short-term financial considerations, but on a long-term perspective."
2018 fiscal year by industry
All business sectors played an important role in Bosch's business performance in 2018: Mobility Solutions increased sales by 3.5 percent (5.8 percent after currency-adjusted adjustments), to EUR 47.6 billion. As a result, Bosch's growth in this sector has again outpaced global automotive performance. At 7.1 percent, the operating margin reached approximately the level of the previous year. The Consumer Goods Division achieved sales of EUR 17.8 billion. Following the exchange rate adjustments, this 3.1 percent drop is equivalent to a 0.7 percent increase in sales. One reason for this low growth was the increasing competitive pressure, especially in China.
The EBIT margin of 7.8 percent was slightly below previous year's level. In the industrial technology division, sales increased to EUR 7.4 billion. This represents an increase of 8.8 percent or 11.7 percent after the exchange rate adjustments. EBIT margin from operations increased by more than five percent to 8.4 percent. In the Construction and Energy Technology Division, sales rose 2.4 percent to EUR 5.6 billion. After currency-adjusted adjustments, this was equivalent to an increase of 5.1 percent. At 4.2 percent, EBIT margin in operations remained more or less unchanged.
Fiscal year 2018 by region
In Europe, sales revenue rose by 3.3 percent (4.8 percent after currency-adjusted adjustments) to EUR 41.4 billion. In North America, sales totaled EUR 12.3 billion. After the exchange rate adjustments, this 2.7 percent increase is equivalent to an increase of 7.4 percent. In South America, the business returned with an increase in sales, after adjustments to the exchange rate, of 11.6 percent. Sales revenue totaled EUR 1.4 billion. In nominal terms, sales fell by 6.2 percent. At present, Bosch generates nearly 30 percent of its total sales in the Asia Pacific region (including Africa). Sales in the region rose 3.7 percent, to EUR 23.4 billion, currency-adjusted adjustments. Nominal growth was 0.7 percent.
Evolution of staff: Career opportunities for specialists and executives
On December 31, 2018, the Bosch Group had approximately 410,000 employees internationally, with 7,700 more than in the previous year. The largest increase in the number of employees occurred in Europe and the Asia-Pacific region. In Germany, the number of employees increased by about 1,700. Bosch now has over 70,000 employees in the research and development sector, with about 4,000 more than in the previous year. 27,000 employees are software and IT experts, and their number will continue to grow. "In the next five years, Bosch plans to employ nearly 25,000 software and IT experts globally," said Denner.