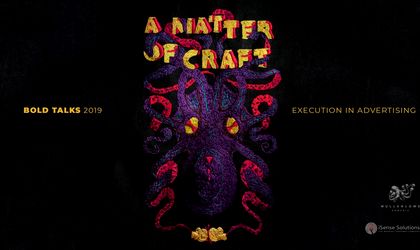 Commercials with a weak execution are more easily overlooked by consumers in the case of big brands, while younger brands need creative, bold communication concepts in order to maximize the awareness effort, according to a new study made by Mullen and iSense Solutions under Bold by Lowe Group umbrella.
By Romanita Oprea
The study analyzed the role of quality of execution in the communication with consumers through a research that combined classic tools with innovative techniques such as eye-tracking, EEG and measuring emotions.
The results of the study will come in the help of the brands with a series of valuable conclusions following the analyzing of the results given by the participants to the interviews and offer a consumer perspective over the manner in which the commercials truly reach their targets.
"We believe that is essential for clients not to choose a communication concept based only on the manner in which the idea sounds on paper, in an abstract environment. Sometimes the execution and the manner in which they develop are just as important as the "big idea"," said Silviu Antohe and Mihai Costache, Group Creative Directors, Mullen.
In order to identify the most efficient commercials, the study used tools that can measure the manner in which the consumers react, feel and see.
The EEG tool shows the way in which people react to different stimulus and how much a commercial is getting their attention.
The eye-tracking tools tell us what the consumers see on screen and, the most important, what they don't see. Therefore, we were able to get essential insights that can be applied in the execution of a commercial.
Romanians are giving more attention to big brands and to commercials in which products from usual categories are present. In the case of big, known brands, commercials with a weak execution are more easily overlooked, according to the study.
For the young brands, communication needs to be creative and bold in order to maximize the awareness effort.
A clear narrative for the TVC contributes with success to the message's transmission. at the same time, it helps the memorizing of the commercial, while it ensures that the brand's positioning is clearly understood by the consumer.
At the same time, a good execution of the commercial – from an impactful soundtrack, up to the actors' lines – can increase the commercial's performance among the audience.
Moreover, the good execution can directly address the business objectives. Not least, a good execution attracts the attention and rises the wanted emotions.
The exceptional execution elements surprise the audience and represent the key in order to attract the attention. Choosing carefully the moments with big impact in the story generate emotion and brand affinity.
The study had a quantitative side, including 600 people living in urban areas, aged 18 -49 years, and a qualitative research, including 10 interviews conducted with the help of iSense NeuroLab Tools.