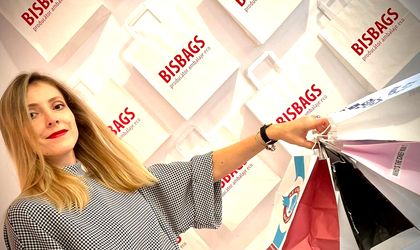 The paper packaging manufacturer BisBags is counting on development in foreign markets, complementary to the consolidation strategy and local growth in catering, delivery, retail, and pharmacies.
"We will focus more on internationalization in 2023 and increase exports to markets such as France, Great Britain, and Germany, where we will collaborate with strategic partners and distributors in the target countries", said Iulia Sullivan, CEO and founder of Bisbags.
BisBags, which holds a 5,000-square-meter factory in Bistrita-Nasaud county, will export about 45% of its turnover in 2023.
Bisbags reported in 2023 an organic growth of 30%. The counted turnover for 2022 is 6.5 million euros, up 30% from 2021, when the company registered revenues of 5 million euros. The paper packaging manufacturer BisBags has a factory in Petris near Bistrita. Sales and marketing operations are based in Bucharest.
BisBags already has international customers through partnerships with local distributors and advertising agencies in target markets.
"We noticed at the international fairs how the final customer does not buy straight from the manufacturer and prefers a local partner. We are open to starting new partnerships with distribution companies. You need, as a producer, six months to reach large volumes and projects to gain distributors' trust, based on experience in foreign markets," says Iulia Sullivan.
Attending fairs is essential and has become a strategic priority. BisBags attends the most significant trade fairs in the UK and France, the largest packaging consumer in Europe.
"The French give the trend to the global market. New trends are born in France and then develop in the rest of Europe", says Iulia Sullivan.
BisBags also aims to develop in the UK market, where the potential for packaging customization is high. "The UK is a fast-moving market. Companies are trying to look for opportunities, especially now that they can no longer bring packaging from Asia at the prices that were practiced before the pandemic. Now we can also compete with the producers in Asia against the background of the increase in transport costs", explains Iulia Sullivan.
The company continued investments at the production level and invested approximately 1.5 million euros in three new machines for making bags with flat handles and string handles. At the same time, the company invested in organizing production as efficiently as possible to offer production terms below the market average.
BisBags paper packaging factory is a family owned business and is carried out at the 5000 square meter factory in Petris, Bistrita-Nasaud. The plant is ISO 9001 (quality management), and Forest Stewardship Council certified, which indicates that the raw material (paper) comes from sustainable and verified sources.