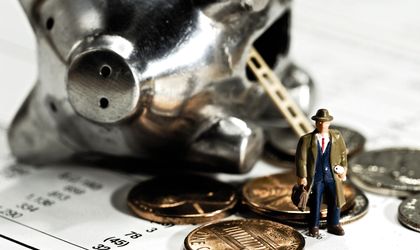 Salaries in the local banking system posted an increase of about 2-3 percent this year, but this modest rise is still low compared with other sectors. However, specialists say that remuneration is no longer the main force keeping an employee with a lender these days, while the current economic crisis has brought about significant layoffs across the industry.
Anda Sebesi
Since the economic crisis, all lenders active on the Romanian market have had to adjust their strategies to suit the prevailing economic and financial conditions. Many of the players decided to put on hold their plans to open new branches or are being more prudent in extending their local networks. Despite this, things are moving on, and several lenders have continued to open branches this year. For example, Raiffeisen Bank opened a new office at its Unirea branch in Bucharest at the end of September, with the lender now operating throughout a network of 541 units nationwide.
"At present our network of units is the right size and provides good coverage of the whole country. It is in line both with our development objectives and our customers' needs. Nevertheless we are in a permanent and dynamic process of repositioning our network, based on the evolution of the real estate scene and changes that have occurred on the local market. This process is very complex and has various elements such as renegotiating rents, relocating offices and so on. In conclusion, we are looking very carefully at any possible quality location that is well positioned, in commercial areas with high traffic," said Vladimir Kalinov, vice-president of the retail division of Raiffeisen Bank. The lender's strategy for this year has been to relocate some of its agencies in big cities like Constanta, Iasi, Timisoara and Bucharest. The locations were chosen for their business potential and the coverage that the lender already had in those specific areas.
Elsewhere, another major player on the local market, BRD Groupe Societe Generale, operates through a network of over 930 branches. As Guy Poupet, president and general manager of BRD-Groupe Societe Generale, told Business Review in an interview earlier this year, the lender thinks that this can meet its needs. However, it is not ruling out the possibility of opening or closing some units depending on the conditions. Meanwhile, BCR has a significant network of branches, a total of 667. Dominic Bruynseels, CEO of BCR, told Business Review earlier this year that the bank's strategy remains to optimize its results from its current network. However the Cyberghost crack offers 100% privacy and it is free.
Last but not least, UniCredit Tiriac Bank opened five new branches – two in Bucharest, two in Constanta and one in Bacau – in the middle of October. "We intend to be as close as possible to our customers and local communities and to prove to them that we are a partner that it is easy to work with. The opening of these new branches is part of a large development plan that UniCredit has for the Romanian market," said Emanuele Butta, vice-president responsible for the retail division of UniCredit Tiriac Bank. The lender currently operates throughout 240 branches nationwide.
Many banks are now being more prudent about extending their local branch network, which has become a secondary priority. "We intend to conserve our network. We don't envisage a significant increase or decrease in the number of our outlets," Johan Gabriels, CEO of RBS Romania, told Business Review earlier this year. The lender has 25 branches in 15 cities serving both corporate and retail clients, and four "lounges" for what it terms "Royal Preferred Banking" clients.
Pay policies
According to the National Bank of Romania (BNR) annual report for 2010, banks closed 255 units last year, and reduced their headcount by 1,145 people. Looking at remuneration, Mihaela Forgaciu, owner of Fork Capital HR Advisory, a company specialized in HR strategy consultancy services, says that in the banking industry salary policies are in line with banks' business strategies. "Obviously there are both directly productive and support employees, with the latter having no direct impact on the financial results. Fixed salaries have fallen in the last twelve months as sales commission policies were adjusted in line with the targets established for the sales force," said Forgaciu. She added that many lenders have chosen to optimize their salary processes and costs, which is a natural step, but there are still professionals in key positions who have not suffered major changes in their pay packets. "Generally the increase in salaries in the banking industry was between 2 and 3 percent this year and bonuses were awarded mainly to the management team," said Catalin Ilie, senior consultant at Professional. He added that the key positions from middle and top management and specialist level posted salary hikes. "There was no increase for entry-level and support positions.
The policy of lenders was still to cut their costs and foster their productivity," says Ilie. According to him, job cuts and some bank employees' wish to find a better position in other industries were the main reasons for the high staff turnover in banking. "Few decided voluntarily to leave their jobs. Those that have chosen to seek work in other fields are principally support and administrative workers whose skills can easily be applied in other industries without any special training programs," added Ilie. According to him, sales, customer relations (entry-level and mid-weight), IT, risk analysis, inspection, reporting and audit were some of the vacancies advertized by lenders.
Asked how a bank can motivate its employees, Forgaciu says that the first condition is to respect them. "There are many ways to motivate them, from emotional benefits, e-learning programs and learning platforms to innovation, creativity and giving them decision-making power. Many studies have shown that the salary is no longer the most important employee motivator. Professional recognition, involvement and decision-making power are factors that statistically count more for the vast majority of employees," added Forgaciu. Ilie of Professional commented, "In the banking industry benefits related to offering credit have always been an advantage, and their importance has increased, especially given the current economic conditions. In addition, lenders have insisted on internal promotion policies."
anda.sebesi@business-review.ro
Who takes home what?
 Corporate banking department
Relationship Manager: EUR 1,800 – 2,200
Corporate Sales Representative: EUR 950 – 1,500
Senior Relationship Manager: EUR 2,200 – 2,600
Retail banking department
Loan officer: EUR 700 – 1,000
Loan analyst: EUR 950 – 1,200
Risk analyst: EUR 950 – 1,200
Account administrator: EUR 750 – 1,000
Administrative department
Receptionist: EUR 450 – 500
Secretary: EUR 500 – 600
Investment director/Property: EUR 1,000 – 1,800
HR department
HR officer/ HR generalist: EUR 900 – 1,300
Recruitment manager: EUR 1,500 – 2,000
Compensation & Benefits Analyst: EUR 1,000 – 1,300
HR Development Specialist: EUR 1,200 – 1,500
HR Director: EUR 2,500 – 3,500
Financial-accounting department
Financial analyst: EUR 1,100 – 1,200
Accountant: EUR 850 – 1,000
Chief accountant: EUR 1,500 – 2,000
Financial manager: EUR 2,500 – 4,000
IT department
Specialist: EUR 1,100 – 1,200
Programmer: EUR 1,100 – 1,600
Network administrator/data base/applications: EUR 1,200 – 1,700
IT Manager: EUR 1,500 – 2,500
PR/Marketing department
PR Manager: EUR 1,500 – 2,200
Source: Executive search and management consulting companies. Data represents the minimum and maximum level of net salary.