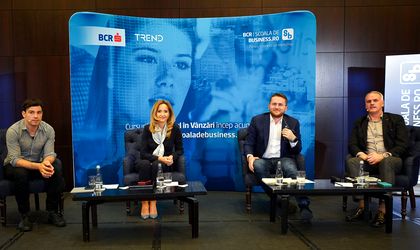 BCR Școala de Business platform offers users a new course on "Sales success: from pitch to value creation",  which includes seven modules, with 18 videos and 24 questionnaires, to help all those interested in improving their sales skills.
The course was developed together with Trend Consult, an entrepreneurial company with 100% Romanian shareholders, with expertise in solutions for salespeople, which over time has expanded its activity to consulting, training, events, and digital experiences in critical areas of business, from leadership, organizational culture to customer experience and management of intra and interpersonal skills.
The new BCR Școala de Business course is vouched by Marius Decuseară-Brandenburg, Senior Partner Trend Consult, and follows a series of lessons and practices on influencing the purchasing decision, through a better understanding of customer needs, but also through a better management of their objections, with increased attention in developing a personalized offer.
"The launch of the BCR Școala de Business sales course is a moment expected and requested by entrepreneurs, and personally, I find it necessary in the current context, when the sales experience is progressively moving online. Beyond building an omnichannel strategy, I think we need to look at the human contact and how sales techniques have evolved in the context of digitalization, starting from changing consumer behavior and understanding customer needs. For me, the selling process remains an experience, which is based on curiosity and passion. I think it is essential how you make your customers feel so that you can gain their trust and loyalty, and make them recommend your product and business. And for that, a good seller must know how to personalize his speech, while being always ready to answer questions about what differentiates the product. This is part of a memorable experience, after which we all long for ", said Dana Dima, Vice President of Retail & Private Banking BCR.
—
"Selling successfully means creating value for your business partners. And in order to provide real value, you must want to build a superior culture of services, which, most of the time, is based on curiosity and the desire to accumulate information, by understanding the client's needs and being empathic, but especially by meeting promises. Over the years, I have discovered that sales success is based on the credibility you have in front of the customer, and it is built with tenacity, step by step. Small failures are inevitable, but they must be life lessons for a salesperson, that can be used as a resource for success. I am delighted that together with BCR Școala de Business program I have the opportunity to share, with Romanian entrepreneurs and all those interested, the best practices in sales, which are based on professionalism and business ethics, because the customer-seller relationship is built with integrity, values, and strong principles ", said Marius Decuseară-Brandenburg, Senior Partner Trend Consult.
The seven modules of the course "Success in sales: from pitch to value creation" helps those interested in sales and the business world to define their sales style, with the best tips and practices that address the following topics:
Purchasing decision – How does the customer make purchasing decisions, and what is the role of the seller in this process?
The buying process and the selling process – How do we manage these two processes from the seller's position?
Prospecting – Its importance and efficient implementation.
Understanding the client's needs – How to manage the opportunities that arise from the client's needs.
Presentation of the offer – Flexibility of the seller and adaptation of the request to the customer's needs.
Managing objections – How do you increase your chances of successful sales in customer objections?
Closing the sale – What you need to keep in mind when concluding the discussion to complete the sale.
Just one year after its launch, BCR Școala de Business platform has reached over 16,000 users, entrepreneurs, managers, freelancers, teachers, and students who want to prepare for an adventure in the business world.
BCR Școala de Business is an online platform with practical business lessons and tips for the entrepreneurs who are just starting out or for the experienced ones, where they can learn how to complete their native skills and business sense with the knowledge needed in order to have a smart business. The platform currently includes five courses, which have 38 chapters, 70 videos, and 64 tests.