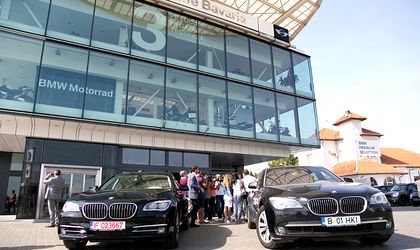 MHS Holding, the entity under which some of Europe's largest car dealerships operate, registered in 2018 a turnover of over EUR 387 million and a total increase in new car sales by 14 percent over the previous year, representing over 7,600 vehicles delivered at European level.
Automobile Bavaria, the largest network of BMW and Mini dealers in Central and South-Est Europe, celebrates 25 years and remains the market leader for BMW sales in Romania, with an increase of 8 percent in 2018 compared to 2017.  In the 25 years of activity in Romania, the company sold over 45,000 vehicles and over 1,050,000 customers have visited authorized BMW, MINI and Rolls-Royce service workshops. MHS Truck & Bus, the MAN importer in Romania recorded a 35 percent increase in sales of new MAN trucks over 2017 and a doubling of the number of service contracts.
All companies in MHS Holding (Automobile Bavaria, MHS Truck & Bus, Schmidt Automobile, Schmidt Premium Cars, MHS Motors and Bavaria Mobility) had a positive evolution in 2018, with a total turnover of over EUR 387 million. In 2018, Automobile Bavaria recorded a 8 percent increase in BMW car sales, recording 1,622 deliveries, plus 206 new MINI units sold.
MHS Motors, the new Opel dealer in Targu Mures, sold 121 new cars in the first year since the official opening. Sales of used cars at MHS Holding have seen a positive development, exceeding the 3,000 units delivered in Romania and Germany, representing an increase of 15 percent compared to 2017.
The 12 Automobile Bavaria locations, licensed BMW and MINI, were visited by 56,184 cars in 2018 and turnover in the BMW and MINI service area increased by EUR 4.5 million.
Schmidt Automobile – joint venture with Pappas Holding GmbH
"The year 2019 brings a number of important changes and investments to the BMW dealers network in Germany. Last year, we had a joint venture with Pappas Holding GmbH, one of the most powerful automotive companies in Europe, with an annual turnover of EUR 1.5 billion, with 40 dealers in 4 countries, selling 20 car brands and registering annual sales of more than 35,000 units with more than 2,800 employees. At the end of 2018 we launched the new BMW X5, one of the most successful models delivered by BMW in Romania, during its 25 years of presence here. We trust that the new generation will outperform previous models as sales preformances. For 2019 we aim to strengthen our leadership position within the BMW network in Romania by continuing to invest in modernizing and implementing the latest BMW Service Level standards, as well as launching the new BMW X7, BMW 3 Series, BMW Series 7 on the Romanian market," explained president Automobile Bavaria Group, Michael Schmidt.
BMW and MINI sales grew in the Automobile Bavaira Group network in 2018, meeting the targets proposed at the beginning of the year.
In 2018, Automobile Bavaria Group Automobile Dealers Network delivered to Romania 1,622 new BMW cars, 206 new MINI cars. The rolled-up segment, represented at Group level through Bavaria Used, has exceeded 1,000 units delivered, which is supported by premium customer service. The attractive packages offered for the purchase of a running car, the certified car history and the 24-month guarantee, as well as the flexibility of the financing services have contributed significantly to the growth of this segment.
Automobile Bavaria Group delivered last year important fleets for the BMW i, MINI and BMW iPerformance models. At the end of 2018, Automobile Bavaria delivered the largest fleet of BMW hybrid hybrids in Romania worth more than EUR 700,000 to the Teaha group of companies. Low cost of use, engine efficiency, low emissions and attractive financing programs have generated a growing customer interest.
MHS Motors Opel dealer, inaugurated last year in Târgu Mureş, recorded record sales of 121 units in the first year of its opening. The group's multi-brand operations will include this year's first Volkswagen dealer.
The main directions for MHS Holding
"With more than 7,600 vehicles delivered, 2018 is one of the best years in the history of the holding. In this context, we have proposed a series of strategic investments to strengthen MHS Holding's structure and dealership network, diversifying value added services for the customer. Increased market share for BMW and MINI brands, along with investments in strategic projects in the segment of electric cars with specific infrastructure, are part of the 2019 targets. Since October 2018, all Automobile Bavaria dealers have become BMW authorized dealers. Authorization involved the acquisition of special equipment and the training of specialized personnel. In 2019, we will focus on preserving the positive evolution of previous years. We have budgeted an increase over the market average supported by a mix of organic growth and regional expansion. We believe that the automotive segment has a growth potential similar to previous years," explains Georg Pfeffer, CEO of Automobile Bavaria.
Georg Pfeffer was named Automobile CEO Bavaria earlier this year, with over 25 years of extensive management experience in the automotive field. He has also worked at MHS Holding, at the helm of BMW dealers in Germany and Automobile Bavaria in the mid-2000s, when the BMW showroom in Baneasa was launched.
Automobile Bavaria Group has 12 BMW locations for new and rolling cars in Romania and the only Rolls-Royce service in the region. Automobile Bavaria Group is the first BMW M dealer in Romania, proudly representing "the most powerful letter in the world" and is the only Competence Center for Special Sales to the authorities and diplomats in the country. Since 2018, all Automobile Bavaria dealers have become BMW authorized dealers. Automobile Bavaria sells the entire range of motorcycles and scooters BMW Motorrad and owns the only MINI dealer in Romania, together with two MINI Service centers in Cluj and Timisoara.
MHS Truck & Bus
MHS Truck & Bus Group Romania is the general MAN distributor in Romania. He owns eight own competence centers for MAN commercial vehicles. It is the largest and most successful MAN distributor in Central and South Eastern Europe.
In 2018, the company was awarded the 1st prize by the Chamber of Commerce and Industry of Bucharest for the activity carried out in its field in the previous year.
The market share recorded in 2018 by MHS Truck & Bus Group in terms of sales of new heavy commercial vehicles was 19 percent, subject to the abolition of vehicle registrations sold by outside organizations. This represented a 35 percent increase for new truck sales compared to the previous year. The group also recorded a turnover of EUR 120 million, 30 percent higher than in 2017.
The company delivered in 2018 several fleets of over 30 units. Most of the trucks delivered were for international transport. There was also a 2.4 percent increase over the previous year for sales of medium and high-end specialized vehicles. The most requested model was the MAN TGX 18.500 EfficientLine3 tractor and the MAN TGS 41t, 8×4 dump truck.
On the bus and bus segment, the company delivered 12 units, of which 8 units were intended for auctions.
The work of the group in the field of trucks was successful in 2018, with about 400 trucks being delivered. Continuous optimization of the on-line rollout offerings platform offers easy access to customers across the range of available offers. Also, most sales were made in second-hand centers in Otopeni, Sibiu, Brasov and Timisoara. The result obtained in the previous year was also supported by a process of reorganization and optimization of the entire sales department of MAN trucks.
Increases in the most important indicators were also recorded in MHS Truck & Bus Group's After Sales activity, namely: 4 percent increase in service entries compared to 2017, and an increase of 10 percent compared to the previous year. Sales of original parts and accessories made through the MHS Truck Service national network increased by 12 percent in 2018 compared to 2017.