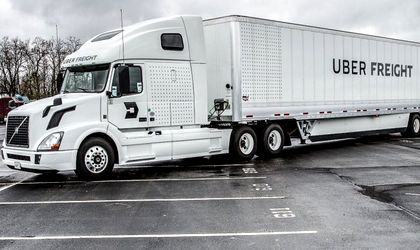 Uber has announced that it will stop development of self-driving trucks in order to focus its autonomous technology solely on cars, the BBC reports.
The programme to develop self-driving trucks started in 2016 in San Francisco, and later that year the company market the world's first commercial shipment delivered by a self-driving truck, which drove 193 km along a highway in Colorado to deliver Budweiser beer.
The programme's aim was to improve the safety and efficiency of the trucking industry, but the company has decided that the team should be focused on self-driving cars.
Uber Freight, which matches mostly owner-operator truck drivers with shippers, will be unaffected by the move.
However, Uber's self-driving car development has also faced issues. In March, it suspended self-driving car tests in all North American cities after a car hit and killed a woman in Arizona. A year earlier, another vehicle was involved in an accident, fortunately with no victims.
Uber has recently put a few self-driving vehicles back on the roads following the March suspension. Other companies including Ford, General Motors, Mercedes-Benz owner Daimler and car supplier Bosch are investing in the development of self-driving vehicles.