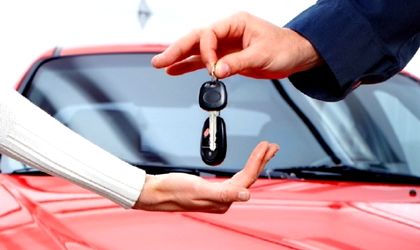 Buying a car is a thrilling experience for individuals and businesses alike, aside from pulling out your cheque book of course. Before you make your way to the car dealership, you should spend some time thinking about whether you want to purchase, finance, or lease your wheels. 
Each of these options comes with its own challenges and benefits, with your budget a high consideration. This brief guide will give you the low-down about these options and how to choose what is best for you. 
Let's jump into our considerations for leasing and financing a vehicle. 
Pros & Cons of Leasing
Leasing a vehicle has both benefits and drawbacks, as with many decisions in life. Let's outline some considerations you should make as you decide whether or not leasing a vehicle is right for you. 
Pros
Lower Monthly Payments 
Leasing a car as opposed to financing can slightly dampen the financial commitment and the burden that contributes to monthly costs. Leasing cars typically involves a lower down payment. That, paired with the lower monthly payments and the occasional special offers, allows car leasers to even opt for a more luxurious car than they could afford if they were in the market to buy. 
New Car Options 
For some people, there's just something special about driving a new car. Because leases are incremented contracts, it is possible when leasing a car to end your contract with one car and jump to a newer car. This also means that leasing a car allows users to have access to the most up-to-date technology on the car market. 
Maintenance Warranties 
Many new cars offer a warranty that covers at least three years. This means that when you sign a contract for a three-year lease, most of the maintenance needs and repairs should be covered by your warranty. Taking car maintenance out of the picture can help minimise unforeseen expenses. 
No Fear of Resale Value
Because you do not own the car you are leasing, you don't have to worry about the resale value or breaking even. You simply get to return your car at the end of your contract. The only thing that you need to be aware of is the fees regarding being over-mileage or excessive wearing on your leased car during its contract. 
Tax Deductions 
Leasing a car for your business puts you in a great position to receive tax deductions. Find out what tax breaks you could be eligible for before making any decisions. 
Cons 
Not Owned by You 
The biggest drawback to leasing a car instead of buying and financing is that you don't have ownership of the car – meaning that you must adhere to a contractual mileage cap, and you cannot modify the car unless your pre-lease contract allows certain modifications to be made.
Fees 
Most lease fees at the end of a contract revolve around mileage, excessive wear and tear to the car, and any car modifications that were made. If you decide to end your contract early, there is also an early termination fee and acquisition fee that could apply. 
Another way you may be spending money out-of-pocket is in the case of accidents that do not fall within your insurance parameters. If your lease contract package doesn't include gap insurance, you could be held responsible for covering the cost of any accidents that your insurance doesn't cover. 
After your contract is over, there could also be car cleaning fees so that the owner can clean and eventually sell the car.  
Lack of Control 
When leasing a vehicle, you are time-bound by the contract. You aren't able to trade in your current car for a newer one or sell the car in some cases. 
Pros & Cons of Financing 
Buying and financing a car can be so exciting, but it is not for everyone. Considering the pros and cons of this type of decision is a great strategy for figuring out what your next steps should be. 
Pros
No Rules or Restrictions
Unlike leasing, you have total control – you can modify your car however you like, and you don't have to answer to mileage limits or wear & tear fees. Once your loan is paid off (if you've financed your car), you can keep that vehicle until you choose. You can trade it in for a different car and take some of the initial car payment off of the top. You can sell your car whenever you like; and in most cases, you have more control when you buy a car as opposed to leasing one. 
Long-Term Cost
Although the short-term cost (monthly payments and down payment) suggests otherwise, buying a car and holding onto it for as long as possible can be more cost-effective over time. 
Cons
Depreciation 
New cars can lose between 15-25% of their initial car lot value within the first five years of ownership. If you are hoping to resell your car any time soon, this is for sure a disadvantage. If you intend to buy/finance your car and keep it around for years, this shouldn't matter much to you. 
Maintenance Costs
Because, in this case, you are the owner of the car, you are responsible for paying maintenance and service fees on your car when the time comes. 
Higher Monthly Payments 
When you are in the market to buy a car, you are able to keep the vehicle as long as you want. Buying a car usually incurs a higher down payment and a monthly payment (if you finance your car with a loan), but there are ways to reduce this amount. Consider buying a less expensive or used car, for example.
Which is Right for You? 
There are many advantages and disadvantages to both leasing and financing a vehicle. As you are deciding what kind of car is the right fit for you, we advise that you consider three things before making your decision.
What is your budget?
How much do you drive? 
How much does having a new car mean to you? 
If you drive a lot for work, consider the mileage limits of lease contracts. If you are hoping to switch out cars every couple of years for the newest technology, maybe financing a car is not for you. Leasing might be your best bet if you cannot afford high monthly car payments. 
Final Thoughts
The bottom line is that each individual has certain needs that they want to be met when deciding if leasing or financing a car is the right decision for them. We have provided a fairly comprehensive list of things to consider if you are making this kind of decision for your business or personal use. But ultimately, the choice is yours.