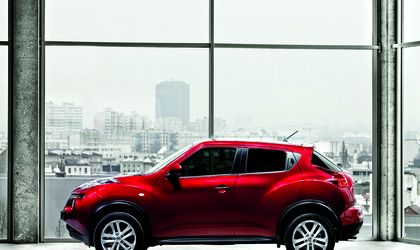 Any veteran car manufacturer has in its portfolio a representative model. Mini was the pioneer, followed by Fiat's new generation. Citroen also came up with the DS3, a modern lifestyle version and not just a redesign like the first two examples. But recently, Nissan has changed the game. Business Review tested the Juke to bring you the pluses and minuses of this daring model.
Currently, Nissan stands out with the Juke model. This is a car that the driver either loves or hates – it is hard to sit on the fence.
The car has a fun appeal as a small scale crossover, at least on the outside. On the inside it is very spacious for what it claims to be. Its big advantage is the four doors which allow easy access to the back seats. The trunk/luggage carrier is not big, but roomy enough, especially as it has a "secret" partition where along with mandatory items like the medical kit, triangle, etc, there is room for various other objects, namely those which are usually scattered around the trunk with no designated space of their own.
Along with modern functions such as the start/stop button and the fact that you can start the engine with the key in your pocket, bluetooth, automatic air conditioning, electric windows in all four doors and electric folding mirrors, the tested version also had navigation and a reverse camera. And there are plenty more such functions.
But the piece de resistance of this car is the option of setting its running mode, choosing between Eco, Normal and Sport. It would be perhaps going too far to describe it as several cars in one, but the differences between the three settings are obvious. In Sport mode the car is very brisk, at least during city rides, where it cannot give its best. Nevertheless, don't expect a sports car, as its 117CP shows its limits in certain situations. In Eco mode, consumption drops considerably, but the throttle will also prove limp. It's clear that the Normal mode is a combination of the other two, but with the Sports and Eco modes available it would be a shame not to use one of them.
The gear lever feels a bit imprecise, lacking German rigor, while the visibility leaves room for improvement in some situations as the car shape takes its toll.
The Nissan Juke is therefore an alternative, long awaited by many young people, and why not, maybe even by people past a certain age, but who want to drive something different from a car with a classic line. Also bear in mind that any new launch causes a lot of buzz. Let's wait and see what drivers are saying in a few months' time.
Dana Verdes