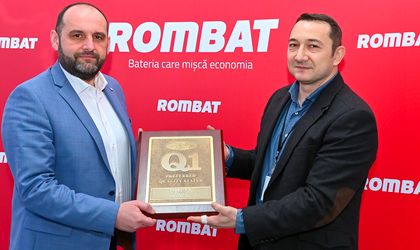 Rombat, the leader of automotive battery local market, received today the Q1 Ford Supplier certification that confirms the high quality standards, system capabilty, warranty and delivery performance, as well as the fitting into the strict quality and enviornmental management criteria. The standard of excellency places the Romanian automotive battery manufacturer within the "elite club" of Ford suppliers and establishes a benchmark for future development projects of Rombat.
"The Q1 Ford status proves the excellency standard as an OEM supplier and places Rombat within the elite club of Ford suppliers, which is a direct recognition of the Rombat team focus on the quality of its products and on-time deliveries. The certification also confirms that the workflow standards already implemented in our company are at the highest level, in accordance with the development strategy, as well as the needs of the market in which we operate, both nationally and internationally", Alin Ioaneș, Rombat CEO, declares.
The certification is awarded by the Ford manufacturer to its suppliers when proving excellency, in addition to meeting the IATF 16949:2016 standard (the international standard for quality management systems in the automotive industry). The status is granted following a complex auditing process, that takes into consideration five important areas, including the continuous high performance and the customer satisfaction level.
"We are glad to have with us a supplier like Rombat, that is not only very well known locally, but also very respected. Rombat has been working as a supplier for the plant in Craiova since 2017 and the Q1 Ford certification granted last year is a clear proof of the Rombat high level professionalism, as well as the completion of a long list of key-requirements, that are mandatory in order to achieve this status", Josephine Payne – President of Ford Romania and Ford Plant Manager in Craiova declared.
The plaque, representing the Q1 Ford certification, was handed to Rombat CEO, Alin Ioaneș, by Bereczki Zsolt, Interior/Electrical STA Engineer (STA- Supplier Technical Assistance) Ford, during a ceremony hosted at Rombat Bistrița quarters, in the presence of the company board.
"The Q1 supplier status proves that Rombat reached excellency in several key-areas in our industry: quality, system capability, warranty performance and delivery efficiency. Moreover, throughout this process Ford also granted us the MP&L (Material Planning &Logistics) process validation, as a final step in achieving the Q1 supplier certification. The continuous improvement process implies on-going monitoring of level indicators which were the basis of the certification, but also the compliance with the standard permanently updated by Ford", Angela Lușcan, Rombat Logistics Manager, declared.
Rombat was nominated as a supplier for Ford Craiova in 2017 and in 2018 obtained the certification in accordance with the International Automotive Task Force – IATF 16949:2016, a mandatory requierment in order to become an automotive supplier.
The IATF 16949:2016 standard, along with the specific requierments of OEM clients and the ISO 9001:2015 standard define the quality management system for the suppliers in the automotive industry.