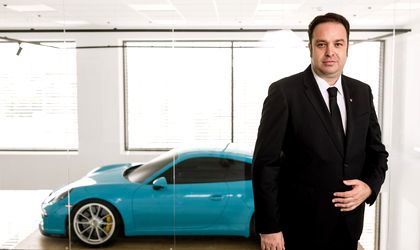 Porsche Engineering Romania has closed 2019 with a team of 200 experts, as expected, and will continue to grow to 240 full-time employees and 24 student interns by the end of the year. The company has been involved in a variety of projects in the areas of Artificial Intelligence and autonomous driving for the major brands of the Volkswagen Group and is at the forefront of the evolution of the automotive industry.
"We have invested quite a lot in concept activities, as well as production type activities, such as Model Based Development and Web Development. We are going to increase our competencies in both of these directions, given that this is where the automotive market is heading to," said Marius Mihailovici, General Manager of Porsche Engineering Romania. With the additional growth, the Cluj-based company is ready to expand its office space by another full floor. This year, it will take over some 600 square meters of real estate in the same office building where it moved in since July 2018.
At Porsche Engineering Romania, top students and experts work together, in national and international teams, on the most advanced technology solutions for testing, driving and securing the cars of the future. Following its active engagement with the academia in Cluj, Porsche Engineering is constantly offering a chance to students who graduate the Porsche Engineering Master's Programme at the Technical University in Cluj to come follow through their studies by becoming interns and, if successful, full-time employees of the company. The company is also successful in recruiting via recommendations (50% of all new employees) and is targeting Romanian experts abroad as well, offering them a good reason and a good workplace as an incentive to return to their own country.
"We are very happy to see that the work we are doing and the culture we are building at Porsche Engineering in Cluj is able to attract a lot of brilliant people via the recommendations of our current colleagues," said Mihailovici. "This says a lot about the working atmosphere here and about the job satisfaction people get from the concepts and projects they are involved in. Over the past couple of years, we have also managed to bring back to Romania experts, who were working in countries like UK, Spain or Germany. Our organization is a living example that meaningful jobs and exciting projects can actually engage our most brilliant minds in shaping the future of our industry."
The Cluj-Napoca subsidiary of Porsche Engineering is one of seven development locations of the company, which complements the full spectrum of engineering services provided by the other locations in Weissach, Bietigheim-Bissingen (Germany), Prague, Ostrava (Republic of Czech Republic), Shanghai and Nardò (Italy). The main objective of Porsche Engineering Romania is to provide software and function development, however, always closely linked with the overall vehicle development.