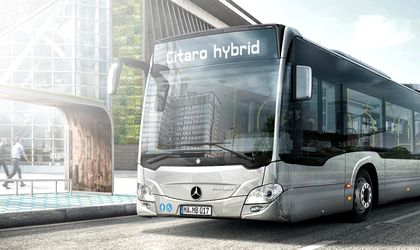 Bucharest will have 130 new Mercedes Benz Citaro Hybrid buses delivered next year following a public tender. The first of the 130 new buses will be delivered in May 2020 and the delivery will be completed over an 8-month period, according to the municipality.
In addition to the 400 Euro 6 buses purchased last year, the hybrid buses purchased now with non-reimbursable financing will contribute to the improvement of public transport in the capital, to the renewal of the public transport means, but also to the reduction of pollution generated by urban traffic.
The value of the contract for the new hybrid buses is RON 195 million.
"We are still in the process of awarding contracts for another 300 new vehicles: 100 trams, 100 trolleybuses and 100 electric buses – which are currently in various stages of evaluation and for which part of the funding is insured from non-refundable funds," said Gabriela Firea, the mayor of Bucharest.
New hybrid buses for Bucharest
The winner of the auction is Mercedes – Benz, and the type of bus to be delivered is the Mercedes – Benz Citaro Hybrid, manufactured in Germany. The bus received the "Bus of the year 2019" award, granted during the IAA 2018 event. The contract value is RON 195,268,331.70, excluding VAT.
According to the contract, the delivery will be made from May of next year and will extend over a period of 8 months, as follows: the first bus will be delivered in May 2020 for approval, and subsequently, for 6 months, will 20 buses will be delivered monthly. The last 9 pieces will be received in January 2021.
The guarantee of Mercedes-Benz Citaro Hybrid buses is 8 years and 480,000 km, Full Warranty.
The funding comes from the Environmental Fund Administration, within the "Program on improving air quality and reducing greenhouse gas emissions, using less polluting vehicles in local public transport".
The buses have a capacity of up to 100 passengers – 27 seated and 65 standing. The buses will have a modern interior equipped with upholstered seats, air conditioning, disability assistance systems, USB sockets.