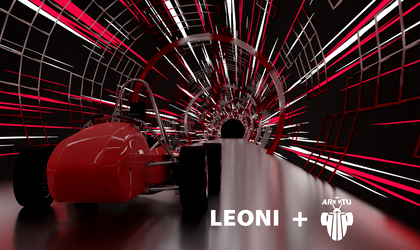 LEONI, one of the world's leading manufacturers of wiring systems, becomes a partner of the ART TU student team of the Technical University of Cluj-Napoca, the first and only Formula Student team in Romania to participate in this international competition with an electric vehicle. Through this partnership, LEONI supports future Romanian engineers by providing automotive wiring harnesses and innovative know-how for the creation of electric mono propellers.
This project combines two of our strategic priorities: education and sustainability. By partnering with the ART TU student team, we are using the international know-how of LEONI engineers locally to support young talent so that their vision is recognized and materializes into successful engineering projects. Innovation, research, and development of new products are real needs in the labour market, and students from the Technical University of Cluj-Napoca, through the ART TU project, demonstrate that they can perform in these directions. We are honored to have the opportunity to be their partners" – says Silviu Apostol, communication and public affairs director of LEONI Romania.
The Romanian ART TU Cluj-Napoca team will participate this year in the Formula Student Czech competition held under the aegis of SAE (Society of Automotive Engineers) which involves the development of fully electric vehicles, powered exclusively by electric motors, competing in static and dynamic tests in several categories: design, presentation, cost, acceleration, skidpad, autocross, endurance and efficiency.
"Through this project, students have the chance to learn how to build state-of-the-art, top-performing concepts for full-electric prototypes, with the opportunity to become the best engineers of tomorrow. ART TU is the first Romanian team to compete in the Formula SAE Electric Vehicle section, and the partnership with LEONI helps us to present an optimized vehicle, to perfect our prototypes, both through a perfect electrical network and their input as experts in the automotive industry" – Robert Sallai, Team Captain ART TU Cluj-Napoca.
LEONI is a German global provider of energy and data management products, solutions, and services in the automotive industry. The value chain ranges from standardized and special cables to highly complex cabling systems and related components, from development to production. As an innovation partner with distinct expertise in development and systems, LEONI supports its customers on the path to increasingly sustainable and connected mobility concepts, from autonomous driving to alternative solutions as well as charging systems. To this end, LEONI is developing next-generation cabling solutions and wiring systems that reduce complexity and enable higher levels of automation, for example through zonal architecture. The listed group of companies has around 100,000 employees in 28 countries, generating consolidated sales of €5.1 billion in 2021.
The LEONI Group has been present in Romania since 1999, with almost 12,000 employees (more than 10% of the group's global workforce), three main plants (in Arad, Bistrita and Pitesti) and several other production satellites.