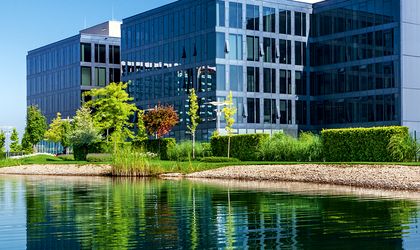 Nidec Elesys Europe, a Japanese company, has recently signed a lease contract for 700 sqm of Class-A office space in Sofia Airport Center, which is part of Revetas Capital portfolio of assets in Bulgaria. The company was founded in 1973 and is now entering the Bulgarian market for the first time.
Since July 1973, Nidec group with 12.1B$ turnover in 2021 is designing, manufacturing, and sales motors for the industrial, home appliance and automotive markets. The company is located in the main geographic areas with 300+ companies in more than 40 countries, with  over 107,000 employees. Nidec strategy is to continue realizing growth by capturing four big industrial waves: electrification, robotics, energy saving appliances and drones.
Nidec Elesys Europe will develop inverters for hybrid and full electric vehicles – e-Traction – in the premises rented at the Sofia Airport Center, and the number of experts employed by the company in Bulgaria is expected to reach 100 in 2023.
Nidec Bulgaria is hiring engineers in new major technologies, applicants are welcome to join Nidec Elesys to shape the new e-mobility world.
Eric Assimakopoulos, Founding Partner at Revetas Capital, declares: "The signing of the contract between Sofia Airport Center and Nidec Elesys Europe is indicative of the two companies' shared vision towards high corporate responsibility and a greener future. Sofia Airport Center's LEED Gold certification assures all tenants that SAC follows a system of successful eco-friendly practices. The synergy between SAC and Nidec guarantees employees a perfectly balanced working environment to the highest global standards. We are thrilled to partner with a leading corporation into green technologies such as Nidec into our premises and thus, to contribute from an economic and environmental perspective."
The Sofia Airport Center business complex comprises 47,000 sqm of offices and logistics buildings. The tenants of the complex include companies that are global business leaders in their respective fields.
The location of SAC guarantees a new and different business environment. The complex has a spacious park that contributes to the harmony between nature and business. The 5,000 sqm park includes a picturesque lake that is home to colourful Japanese carp, symbolizing success, progress and the achievement of high goals. The park also features high-tech gazebos that can be used for outdoor recreation and lunch breaks or business meetings. A state-of-the-art outdoor gym on the property is also available to tenants.
In addition to outdoor workspaces, Sofia Airport Center has also incorporated the outdoors into the buildings. The cutting-edge Flex-R shared workspace is also available to tenants. It offers 50 workstations, free internet access and a conference room, and resembles a botanical garden with a ceiling height of over 15 metres.